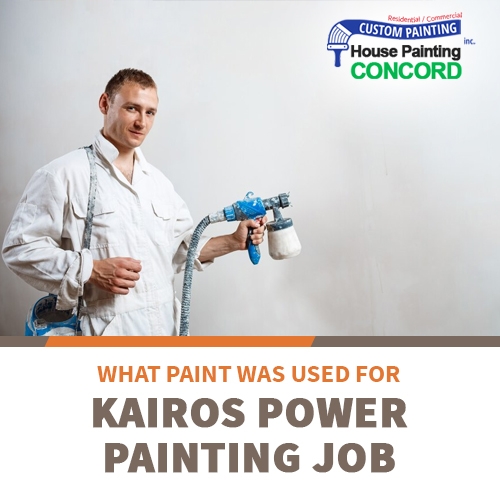 Kairos Power was recently painted by Custom Painting, Inc.'s commercial painting team. Kairos Power is a nuclear research and testing facility in Alameda, CA, housed in a former Navy hangar established in the 1940s. It was employed as a manufacturing facility before it was leased by Kairos Power in 2017. While many long-standing buildings must be removed and rebuilt with new structures, most the Navy's industrial and civic facilities are often intended to last for years or centuries. As a result, many of them are reused and repurposed, and among them is Kairos Power's warehouse.
Custom Painting, Inc. successfully repainted the big warehouse even when faced with different challenges, such as weather-related ones like cold temperatures, fog, wind, and rain. It's because our commercial painters excel at this type of project, leading to another satisfied customer. With proper planning and strategies, as well as the use of the right type of paint, we can complete the project effectively. Using a good type of paint is one of the things that helped us in overcoming the different weather-related challenges. 
Read on below to find out what paint was used for painting the exteriors of Kairos Power's warehouse.
Paint Used for the Project
Rain and cold weather are among the top enemies of exterior painting. Both have a significant impact on the outcome of the project. It's because when it rains during an exterior painting task, the water might wash away the paint, causing it to streak down the surface. On the other hand, cold weather makes it difficult for paint to dry fast, making it more prone to collecting dust and other debris. Our team faced these challenges during the project, along with the presence of wind and fog.
Thankfully, our Custom Painting, Inc. team used a paint called RESILIENCE by Sherwin-Williams. It is a high-quality exterior paint that can withstand different weather conditions. This is due to its MoistureGuard technology, offering exceptional moisture resistance. 
Regular exterior paint takes a minimum of four hours before the paint on the surface is considered safe from rain and moisture and before you can apply another coat of paint if needed. Therefore, you will need to delay the project to give the paint enough time to dry before another rain starts. 
But with Resilience by Sherwin-Williams, only two hours of drying time is needed before the surface is ready. It provides surfaces with sufficient resistance against mold and mildew. Using this paint made it easier for our team to decide when to start the painting project. We were also able to start the painting task during the day and not worry about moisture later in the evening. 
Resilience is a durable paint for exterior surfaces. But it works best if the surface is well-prepared and when the paint is applied correctly. Below are some of the other benefits of using Resilience by Sherwin-Williams:
It has minimal amounts of volatile organic compounds (VOCs).

It is simple to apply.

It effectively conceals dark hues.

It flows and levels beautifully, giving the surface a smooth appearance and feel.

It is suitable for a wide range of siding materials, including wood, aluminum, vinyl, and brick.

It is also suitable for use on clapboard, plywood, shakes, shingles, and metal.

It is suitable for application in temperatures as low as 35 degrees Fahrenheit.

It comes in flat, satin, and glossy textures. 
Things to remember when using Resilience paint:
It is only intended for exterior painting.

Surfaces that have already been painted require two coats of paint to provide adequate coverage.

Before applying Resilience paint to fresh or previously unpainted surfaces, you must prime them.
How Paint Can Transform Old Buildings
A fresh coat of paint may completely improve an old business building's appearance and feel. It is also a low-cost method of preserving an antique structure. This is the case with the old hangar in Alameda that has been restored and repurposed into a contemporary facility for Kairos Power, owing to Custom Painting, Inc.'s outstanding efforts despite the adverse weather.
Below are some of the ways in which a fresh coat of paint can transform old and unused commercial buildings:
Paint helps refresh an old building's space, making it look modern and updated. 

Painting an old building is not only for aesthetic purposes. Painting an old commercial building that has been unused for years helps eliminate old paint damage caused by weather, rot, mold, human activity, and insect infestation.

Repainting old buildings is also an important part of preventative maintenance. It's because it helps protect newly painted surfaces from deteriorating. Therefore, if you want an old building to last for many more years, painting its exterior surfaces properly is one of the best ways to preserve it. 

If your old commercial building is valuable, repainting it helps in maintaining its value. When the building is properly maintained, it will be worth more on the market compared to those that have fallen into disrepair.

There are occasions when local and federal requirements govern the commercial building maintenance routine. Painting frequency is sometimes included in what you need to adhere to in those regulations. This means that having an old commercial building repainted will help it to meet regulatory requirements. This is important, particularly if you are planning to put up a new

business

in the building. 
Conclusion
Weather is indeed one of the major factors that affect the success of an exterior painting project. While we couldn't do anything to change the cold and inclement weather during the painting of Kairos Power's warehouse, proper planning and using the right products helped us complete the project successfully. 
Resilience by Sherwin-Williams is a reliable paint for exterior surfaces, particularly during inclement weather conditions. With this paint, our team was able to worry less about the outcome of the painting project, even when it was windy and raining. Even though we had to delay the project for a few days due to the constant rainy and colder weather, we were able to complete it as soon as we could because of the less drying time of Resilience paint. 
Have you bought or leased an old commercial building that has been idle for many years with the intention of converting it into a brand-new business space? Custom Painting, Inc. can help you plan your future commercial painting projects. We are a full-range residential and commercial painting company with over 40 years of experience. If you want to learn more about our services or request a free quote for any painting task you need, you may call us at 925-686-0903 or fill out this contact form.