If you ever found yourself thinking of a fresh look for your home or office, you may have wondered about the role of painters in the process of updating your interior décor. One of the common questions that arises is whether painters are equipped to handle the removal and replacement of wallpapers. 
In this article, we will explore the world of professional painters and their involvement in transforming your walls. Whether you are considering a simple refresh or a complete makeover, understanding the capabilities of painters when it comes to wallpapers is crucial. Therefore, let us discuss the world of paint and wallpaper and discover what skilled painters can do to breathe new life into your living or working space. 
Challenges in Removing Wallpaper
Removing wallpaper can be a complex and laborious task, often needing careful attention and patience. Below are some of the key challenges that individuals may encounter when attempting to remove wallpaper:
Adhesive Residue:

Wallpaper

is usually applied with adhesive, and removing it can leave behind stubborn adhesive residue on the wall. This can be difficult to remove and may need additional steps or products to eliminate completely.
Multiple Layers:

In some cases, older homes may have multiple layers of wallpaper that have been applied over the years. Removing these layers can be a more labor-intensive process as each layer must be carefully stripped away.
Damage to the Wall:

Improper removal techniques can lead to damage to the underlying drywall or plaster. Overzealous scraping or tearing of the wallpaper can result in gouges, dents, or holes in the wall.
Time

–

Consuming:

Wallpaper removal is a time-consuming process, particularly for larger rooms or areas with intricate patterns. It may need several hours or days to complete, depending on the size and complexity of the project. 
Health Concerns

: Some older wallpapers may contain harmful substances, such as asbestos, which can pose health risks when disturbed. Therefore, it is important to take precautions and, if needed, consult professionals when dealing with potentially hazardous materials. 
Disposal

: Disposing of removed wallpaper and any associated debris can be a logistical challenge. Some wallpapers may be non-recyclable, so proper disposal methods need to be considered. 
Overall, removing wallpaper can be a demanding task with several potential challenges. Proper preparation, the right tools, and patience are needed to achieve successful wallpaper removal without damaging the walls or becoming overwhelmed by the process.
Can You Hire Painters to Remove and Replace Wallpapers?
Yes, there are surely professional painters that you can hire to remove and replace wallpapers in your home or commercial space. Many professional painting companies offer wallpaper removal and installation services as part of their comprehensive painting and decorating services. At Custom Painting, Inc., we offer wallpaper removal, and you also have the option to have the surfaces painted after. 
Below are the usual processes when you hire painters to handle wallpaper removal and replacement:
Assessment:

Painters will first assess the condition of the existing wallpaper and the walls beneath it. They will check for any existing issues, such as damaged drywall or previous wallpaper layers, that may need to be fixed.
Wallpaper Removal:

Professional painters will use the right tools and techniques to safely and effectively remove existing wallpaper. This may include using steamers, scoring tools, and adhesive removers to ensure that the wallpaper comes off cleanly without damaging the underlying surface.
Wall Preparation:

After removing the wallpaper, painters will prepare the walls for the new wallpaper or paint application. This may involve patching and repairing any wall imperfections, sanding, and priming the surface to ensure a smooth and even finish. 
Wallpaper Installation:

If the property owner decides to replace the wallpaper with a new one, there are painters who can handle the installation process. They will carefully measure and cut the wallpaper to fit to the space, ensuring precise alignment and pattern matching if needed.
Painting:

If the property owner decides to switch from wallpaper to paint or wants to paint the walls after wallpaper removal, the painters can proceed with the painting process. They will apply the desired paint color or finish in order to achieve the look that you want. 
Cleanup:

Professional paints always ensure that the work area is left clean and tidy after completing the project. They will remove any debris, leftover wallpaper, or paint supplies from the work area. 
Benefits of Hiring Painters for Wallpaper Removal and Replacement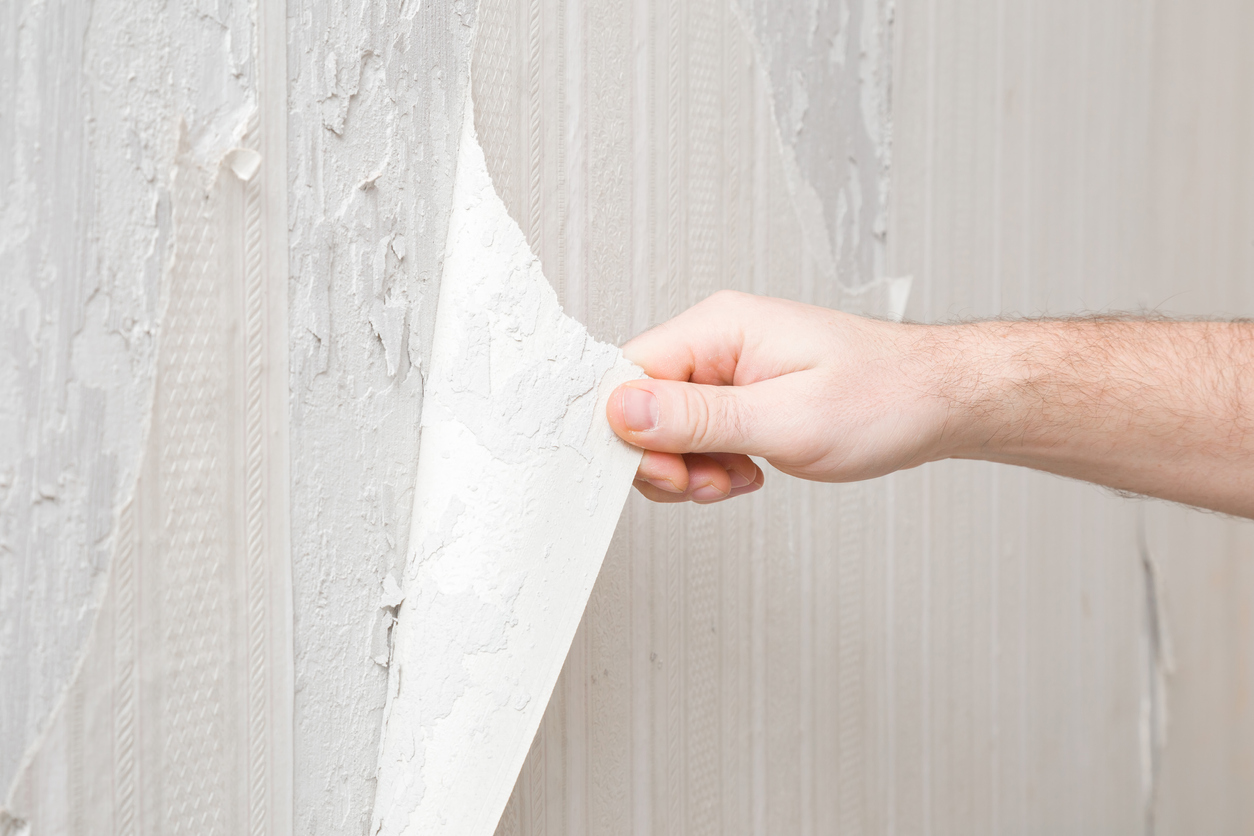 Hiring painters for wallpaper removal and replacement has several advantages. Below are some of them:
Expertise:

Professional painters have the experience and skills to handle wallpaper removal and installation efficiently, minimizing the risk of damage to your walls.
Time-Saving:

They can finish the project faster than when you attempt it, saving you time and effort.
Quality Results:

Painters can achieve high-quality professional results in both wallpaper removal and painting, leaving your space looking its best.
Convenience:

When you hire professionals, you no longer need to worry about buying tools and materials and dealing with the disposal of old wallpaper. 
Before hiring painters for wallpaper removal and replacement, obtaining quotes from various contractors, checking their references and reviews, and discussing your specific preferences and project requirements is a good idea. This way, you can ensure that you are choosing a reputable and qualified team for the job. 
Conclusion
Not all painters are capable of removing and replacing wallpapers. Therefore, it is important to review companies and check their previous works in order to ensure that they are skilled when it comes to wallpaper removal and replacement. 
While the task may seem easy for a lot of people, removing wallpaper is actually a challenging project. If you do not want to damage your drywall and cause further issues, it is better to let the professionals handle the project. Plus, it can help you save time and money. 
We have a team of interior painters in Concord, CA, who can help you remove your old wallpaper and repaint the surfaces to make them look brand new. In addition to that, we also offer other painting and home or business improvement services that you might need. To learn more about these services, you may call us today at 925-686-0903 or fill out this form to schedule an appointment.