Awning removal is more than just dismantling; it's a step toward revitalizing your commercial space. Awnings are like a cap for buildings, protecting and making them look good. But as time passes, these caps, made of metal or fabric, can get old and worn out. They might not be as practical as they were before. That's where we come in. We're experts at removing these old, worn-out awnings from commercial places, helping your building look fresh and functional again.
How Do We Remove Commercial Awnings?
Our approach to commercial awning removal follows a structured and efficient process. This ensures that the removal is seamless and completed with utmost professionalism. 
Here's a glimpse of how we oversee commercial awning removal:
Initial Assessment and Consultation:

Our experienced team thoroughly assesses the existing awning before jumping right into the removal. This includes evaluating its condition, materials, and the details of its installation. We discuss your expectations, project goals, and timeline to tailor our approach accordingly.
Preparatory Work:

Preparation is key to a successful removal. We secure the area, ensuring safety for both our team and your property. Protective measures are put in place, and we dismantle any additional components like frames or attachments connected to the awning.
Removal Techniques:

Our removal techniques are diverse; we adapt to the type and structure of the awning. Whether it's retractable, fabric, metal, or any other kind, we use specialized tools and skills to detach the awning from the building carefully. Precision and caution are exercised to prevent damage to the structure.
Disposal and Recycling:

Environmentally conscious disposal is at the forefront of our practices. Removed materials are sorted for potential recycling or disposal. We ensure that the disposal process is in line with sustainable practices.
Site Cleanup:

After the awning is removed and properly disposed of, we conduct a thorough cleanup. We remove any debris, remnants, or materials from the site. Our goal is to leave the area tidy, ensuring a fresh canvas for future modifications or enhancements.
Types of Commercial Awnings We Remove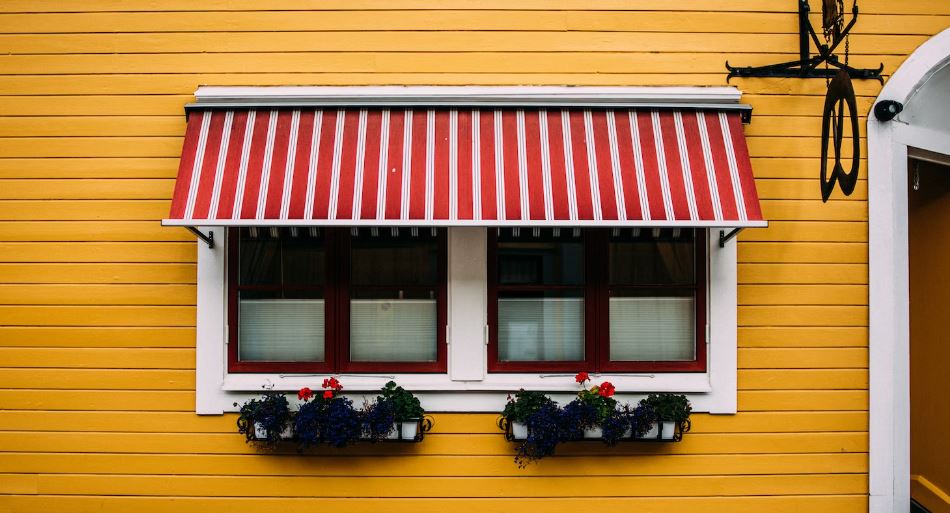 Our skilled team is proficient in the careful removal of:
Retractable Awnings:

These versatile awnings can be retracted or extended based on weather conditions or preference. We specialize in safely removing retractable awnings, considering their intricate mechanisms.
Fixed Awnings

: Fixed awnings, a permanent shading solution, require careful handling during removal. Our team is experienced in removing these awnings without causing damage to the structure.
Metal Awnings:

Metal awnings are known for their durability and strength. Our expertise includes efficiently removing metal awnings, whether made of aluminum, steel, or other metals.
Fabric Awnings:

Fabric awnings are popular for their flexibility in design and functionality. We handle fabric awning removal with precision, ensuring no harm to the fabric or the underlying structure.
Vinyl and Plastic Awnings:

Awnings made from vinyl or plastic materials are lightweight and cost-effective. Our experts can carefully remove vinyl and plastic awnings, leaving your space ready for a fresh transformation.
Benefits of Awning Removal
Removing an old or worn-out awning can bring several benefits to your commercial property:
Enhanced Aesthetics: Removing old, faded, or damaged awnings revitalizes the appearance of your building, giving it a fresh and appealing look.
Improved Functionality: Replacing an outdated awning with a more functional and modern design can enhance its ability to provide shade and protection against the elements.
Flexible Redesign Opportunities: Awning removal allows for redesigning your outdoor space or storefront, enabling you to explore new branding or signage options to better attract customers.
Energy Efficiency: By removing outdated awnings and replacing them with more energy-efficient options, you can regulate indoor temperatures and reduce energy consumption.
Preventive Maintenance: Removing deteriorated awnings can prevent further damage to the building's structure, protecting it from potentially costly repairs.
Cost Savings: Removing an old awning eliminates maintenance and repair costs associated with keeping it in good condition, resulting in long-term cost savings.
Compliance and Regulations: Adhering to local building codes and regulations often requires removing or replacing outdated or unsafe awnings, ensuring compliance with the law.
Customer Attraction: A fresh and modern storefront, achieved through awning removal and replacement, can attract more customers, and create a positive first impression.
Why Choose Custom Painting, Inc. for Awning Removal?
Expertise and Experience: With four decades of experience in the industry, our team possesses the expertise needed for efficient and precise awning removal. We have encountered various types of awnings, enabling us to tailor our approach to each project.
Safety-Focused Approach: Safety is our top priority during every removal project. Our trained technicians adhere to rigorous safety protocols, ensuring a secure removal process that minimizes risks and potential damage.
Customized Solutions: We understand that every commercial property is unique. Custom Painting, Inc. provides personalized solutions, considering the specific type of awning, its installation, and your desired goals for the space.
State-of-the-Art Equipment: Our professionals only use cutting-edge tools and equipment, whether it is interior painting, exterior painting, or awning removal. Our experts use high-quality equipment to ensure the removal is conducted seamlessly.
Environmental Responsibility: Custom Painting, Inc. is committed to environmentally responsible practices. We manage disposal in an eco-friendly manner, recycling materials wherever possible, and adhering to local regulations.
Customer Satisfaction Guarantee: Our dedication to customer satisfaction is unwavering. We strive to exceed your expectations, delivering a removal process that aligns with your vision and needs.
Licensed and Insured: Custom Painting, Inc. is a licensed and insured company, providing you with the assurance that your project is in the hands of professionals.
Ready to Remove and Enhance Your Space?
If you're ready to remove your old, worn-out awning and enhance your commercial space for further renovations, Custom Painting, Inc. is here to assist. Contact us today to schedule a consultation, request a free estimate, or get more information about our services.
Call now at 925-686-0903, and let's get started. Your refreshed space awaits!