Painting the exterior of your house can both improve its curb appeal and safeguard it from the elements. But it takes meticulous planning to produce a smooth, long-lasting, and visually beautiful paint job. In order to achieve the greatest results and a longer-lasting finish, it is essential to spend time prepping the surfaces that are to be painted. Therefore, finding professional painting contractors in Concord is essential.
In this guide, we will provide you with the essential steps you need to take to prepare your home's exterior for painting. By carefully following these instructions, you'll lay the foundation for a painting project that is a success and leaves your home appearing fresh and well-kept.
How to Prepare Your Home's Exterior Before Painting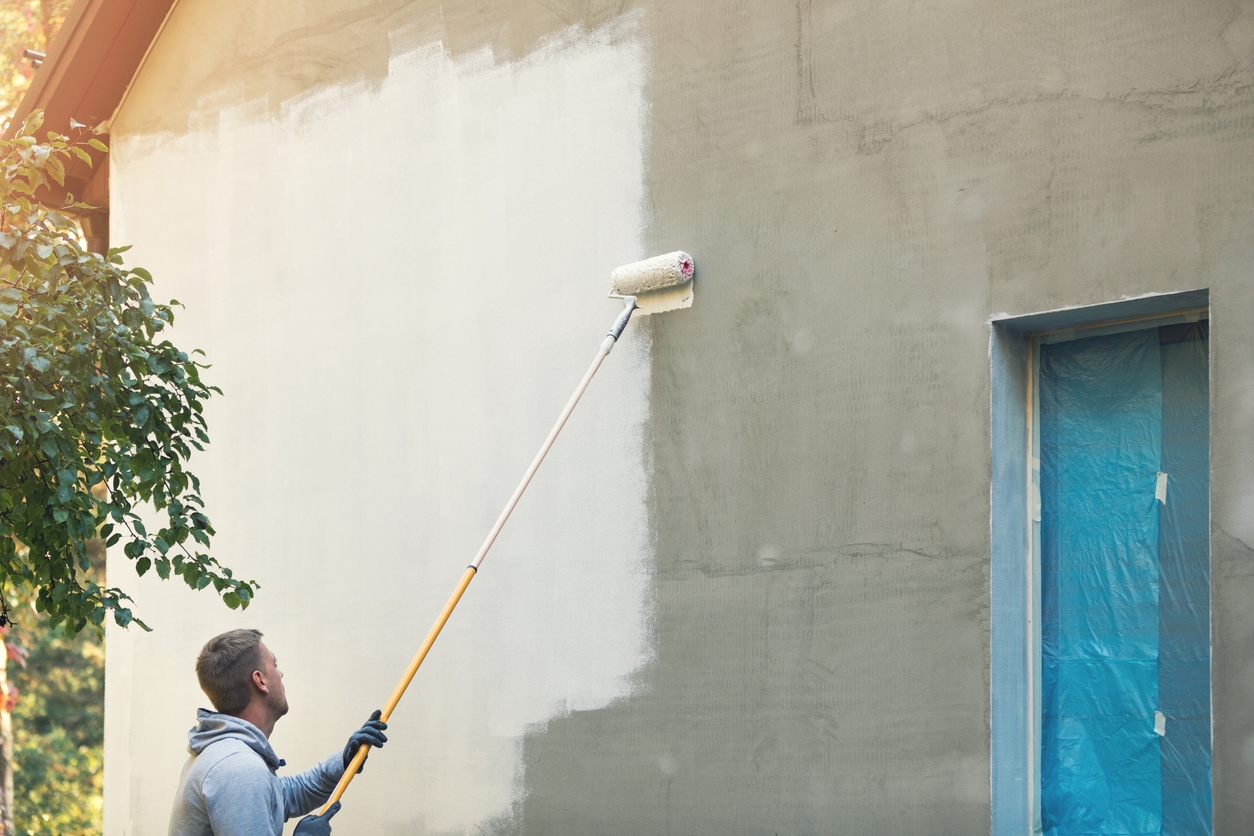 When planning on painting your home's exterior, it is important to prepare the surfaces to be painted carefully. Doing so can make the difference between your paint job lasting a decade versus one to two years. If you do not prepare properly, you might also spend more money and time fixing problems that could have been avoided with patience and knowledge. That's why our exterior painting experts at Custom Painting, Inc. always see to it that they do proper preparation before starting the paint application. 
To provide you with more ideas on how our team works on painting preparations, below are some of the important steps in preparing your home's exterior before painting:
Prepare and Clean the Area
The first step is to remove all of the items near the house, such as grills, patio furniture, and trash bins. Place all of the items away from the walls of your home. For things that you can't move, tape and cover them with drop cloths and painter's tape to protect them from paint drips and other debris. It is also a good idea to trim trees and shrubs that are near the walls and don't forget to cover landscaping with a drop cloth to protect them. 
Wash Your Home's Exterior
Before painting, it is very important to make sure that the exterior of your house is clean and free from dirt and debris. This will help the new paint adhere well. If your house has existing paint, you can speed up the cleaning process by power washing the whole home's exterior. This is also a good idea for walls that are stained, but there are also gentler options, especially if the exterior of your home is made of wood. 
If your home's exterior has softwood siding, do not power wash it, as it can damage the wood. Softwoods like cedar or redwood, particularly old and weathered ones, should be cleaned by hand-scrubbing using water and detergent. Always remember that every minute you spend cleaning your home's exterior properly is an investment in a great paint job. 
Make Repairs and Remove Peeling Paint
Check the exterior surfaces of your home and look for damage or peeling paint. There might be a need to fill holes, caulk surfaces, and remove loose paint. It is important to be meticulous in removing poorly adhering paint by scraping it away by hand. To scrape away loose paint, you can alternatively use a stiff metal wire brush or a power sander with a paint-stripping attachment.
When working on wood surfaces, work with the grain of the wood as you scrape. On wood shakes, you need to be aware that bits of the steel can become lodged in the soft wood. You need to remove all the pieces by hand as these can damage the paint job and cause later discoloration in the wood. When working with peeling paint, it is important to wear a dust mask or a respirator, work gloves, and eye protection.  
Sand the Exterior Surfaces
It is essential to sand the exterior surfaces of your home to create a mechanical bond between paint coats. If you don't do this, the paint might begin to show all sorts of errors in just a few years. Therefore, it is important to sand the surfaces to create a paint job that lasts, even if you will be using oil-based paints that coat and stick well to surfaces. 
If the surfaces are made of weathered wood, you can refresh them by using medium-grit paper. If you are going to use glossy or semi gloss paint on areas like your door or window trip, opt for another pass of sanding using fine-grip paper. For any paint job, sanding is an important step that you should not forget. It helps create a rough surface that is ready to receive new paint. 
Prime the Walls
Priming the surfaces also helps new paint stick to previously painted surfaces. It is required to prime any areas where old paint has been peeled off, but it is a good idea to prime the entire home's exterior surfaces to create a cohesive paint job that looks good all over. This step is especially crucial if you are going to use latex paint to paint over walls that already contain oil-based paint. 
For exterior repainted surfaces, it is recommended to use an exterior latex primer or an oil-based primer. Picking your primer depends on your paint choice. Pick a light-colored primer or one that matches the paint color you are going to be using. Priming becomes more important if you are going to change the color of your home significantly. After priming the walls, do not leave any primed surface unpainted. 
Once you've finished priming all of the exterior surfaces of your home to be painted, the painting process can begin. 
Hire Custom Painting, Inc. for Your Exterior Painting Needs!
The preparation for exterior painting indeed requires a lot of time and effort, but it is very important in order to achieve a perfect and smooth outcome. But if you want the process to be more convenient and ensure better preparations and paint jobs, hiring a professional painting company like Custom Painting, Inc. is a good decision. Doing so will save you time and take away the stress of having to prepare all the tools and materials needed to prepare and paint the exterior surfaces of your home. 
Furthermore, our team of painters in Concord always sees to it that they do clean and quality work using only top-quality paint and materials for your home. When you hire our painters, they will handle everything, from the preparation of the surfaces to the painting process.
Therefore, if you are planning to have your home's exterior painted soon, do not hesitate to reach out to Custom Painting, Inc. You may call us at (925) 686-0903 or fill out this form to schedule an appointment for all your painting needs.