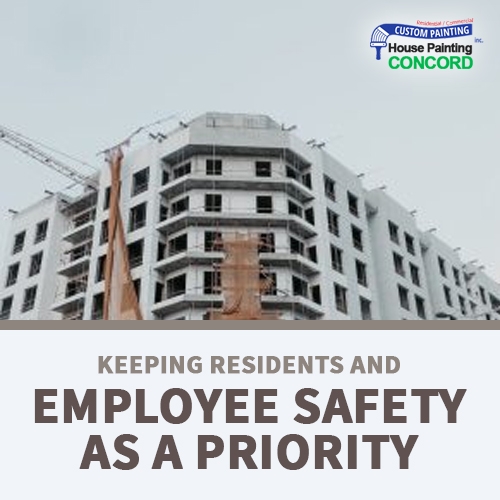 If you own a commercial building, you can understand the significance of maintaining its appealing and pristine look. A fresh coat of paint can do wonders for the appearance and value of your property. However, this task can be tricky, especially for big, tall, or intricately designed buildings. 
It is where a skilled painting company comes in – they can manage any outdoor painting job adeptly and effectively. As a matter of fact, Custom Painting, Inc. has undergone several such experiences and led every project to success without any injuries or problems to residents or employees. 
About the Building
Heritage Estates, located in Livermore, California, is a prestigious senior living community offering independent and assisted lifestyles. With abundant services and amenities, including resort-style assisted living and a beautifully decorated restaurant, seniors can enjoy art classes, fitness programs, and the Brain Fitness Center.
Size
The building was established in 2009 and occupies 8.38 acres of land. The complex has 250 living units in total, and the gross building area covers around 244,000 square feet. Among the 250 units, 40% are allocated to residents who need affordable housing.
Exterior Features
The residential building of Heritage Estates consists of two main sections, each characterized by unique features:
Apartment Building
This building has 190 units within a square-shaped layout.

It stands at four stories with varying heights from 9 to 11 feet.

The original exterior paint was white, complemented by dark colors for the roof, trim, fascia, and railings.

It boasts approximately 20 balconies and patios for residents.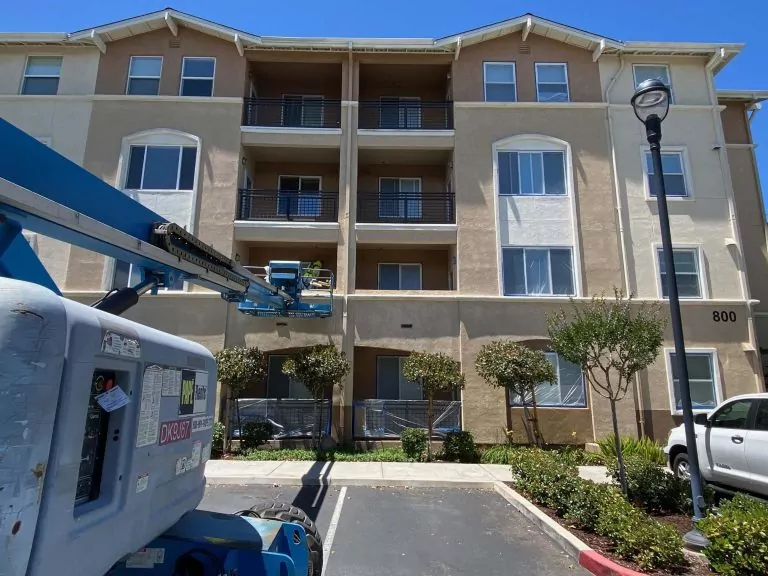 Assisted Living Building
The building has 60 spaces for residents who need additional assistance and care.

It has a similar look and color to the apartment building.

It is slightly smaller and has fewer balconies and patios.
Painting Challenges
Painting the outside of Heritage Estates Livermore was tough and required expertise to be painted suitably. The team faced several obstacles that required innovative solutions and careful execution. These obstacles were:
Building Heights
The building was very high, so the painters had to use aerial boom lifts to reach the upper parts of the building. However, due to an underground parking garage beneath, these lifts couldn't be utilized in the center courtyard (half of the building) as the garage couldn't bear their weight. Also, the building was in a busy corner with two sidewalks bustling with many people, making things more complicated.
Tight Spaces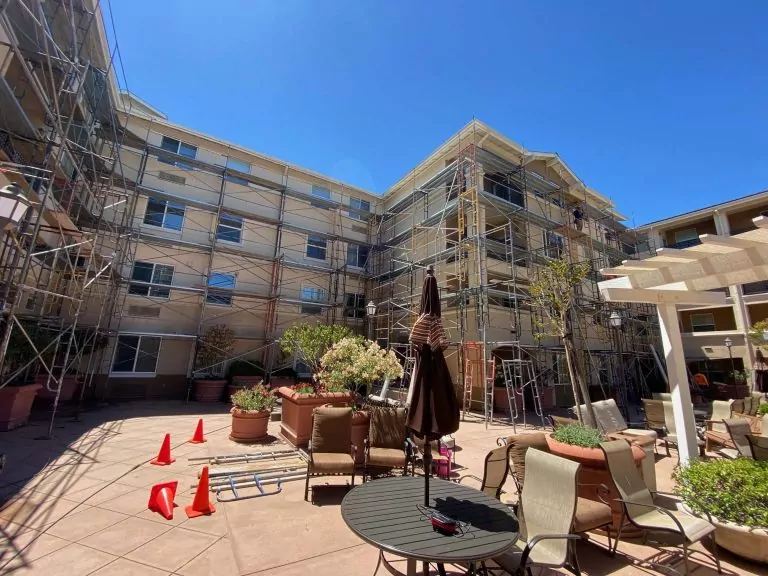 The team had to find a creative way to paint some parts of the building that were very narrow, such as attics, basements, and ducts. These spaces had risks like poor ventilation, dim lighting, and contact with harmful elements. 
So, the team planned carefully, assessed the risks, and followed safety measures. They ensured proper ventilation, lighting equipment, protective clothing, and a standby person outside the tight space.
Safety
The safety of the painters and the people living and working in the building was always a top priority. The building had more than 100 tenants who had their schedules and activities. The painters had to be careful not to cause any harm or inconvenience to them while they were coming and going. 
Specialty Equipment to Help Solve Challenges
Special equipment provided by the company played a vital role in addressing the challenges encountered during the painting process. Here are some of the specific tools used and how they aided the team in managing these challenges: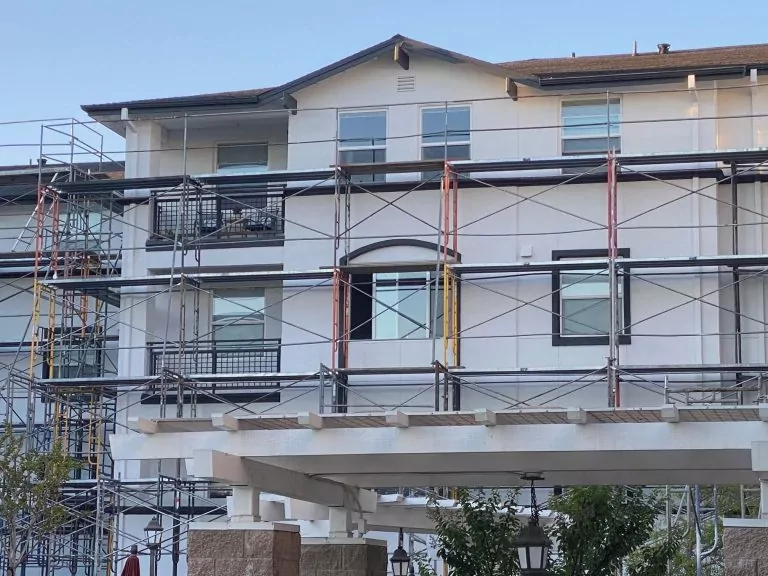 Scaffolding
Due to weight limits in the courtyard, the team couldn't use aerial boom lifts for the whole project. They chose to use scaffolding, which gave them a steady platform and let them paint accurately without getting tired from using ladders.
Aerial Boom Lifts
As mentioned earlier, the building was quite tall, and reaching the high parts was challenging. So, they used machines called aerial boom lifts. These lifts let them go up high and reach places that were difficult to get. It made painting on high walls and ceilings easier and safer.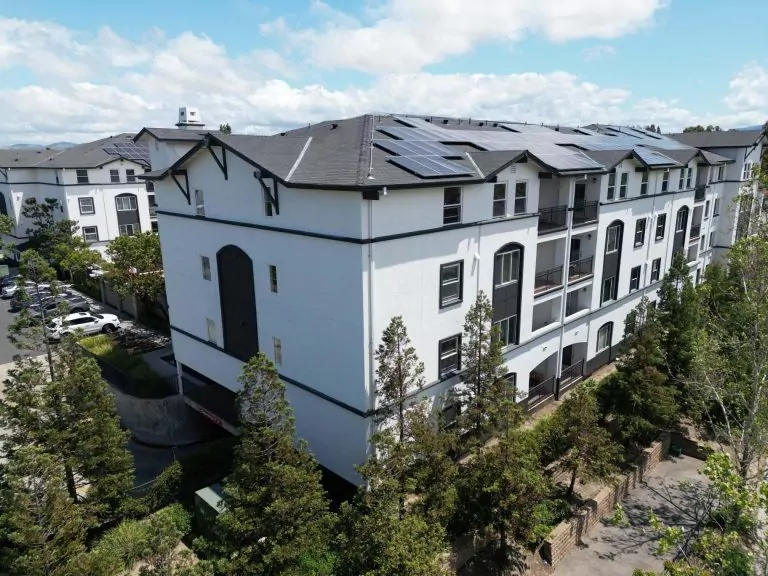 Barricades
Safety barricades are crucial for creating a safe environment around the property. These barricades serve as warning devices to prevent accidents, especially in construction areas. Painters utilized various kinds of barricades, as listed below:
Folding barricades,

lightweight and collapsible, were utilized for flexible usage.

Sturdy steel barricades

provided durability and stability, suitable for managing large crowds.

Plastic pedestrian barricades

, lightweight and eye-catching, ensured safety in various settings, from roads to construction sites.
Painting Process
The last and most important step of painting is to apply the paint. It includes selecting the right colors and finishes for both the interior and exterior parts of the Heritage Estates Livermore buildings. The following is the detail of the paint and safety measures the painters employed:
Paint Team –

The project had a team of 8 to 15 painters who were skilled and experienced at their job.
Paint Tool –

The painters used a device that sprays paint without air. It made painting faster and easier.
Paint Usage –

The project had two parts. The first part used about 1,500 gallons of paint. The next phase will utilize around 2,500 gallons.
Paint Selection
Choosing paint for Heritage Estates Livermore involves various factors. For instance, paint quality, durability, coverage, color retention, and environmental impact. Additionally, preference is given to paints with low or no volatile organic compounds (VOCs) to ensure resident and worker safety. For the project, the chosen paint types and brands were:
Sherwin-Williams DTM paint for metal balcony railings

Sherwin-Williams A-100 flat for stucco walls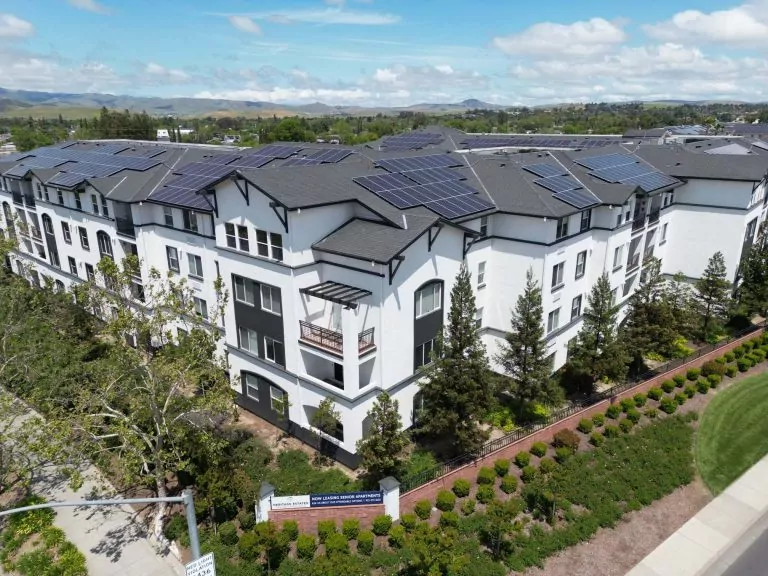 Safety Measures
The painting group follows strict safety guidelines to ensure everyone's safety during the painting process. They were equipped with appropriate PPE to minimize risks. They used different kinds of protective gear for various tasks, such as:
Coveralls and disposable shoe covers kept their clothes and skin clean and safe from the sun and cold.

Goggles or safety glasses kept their eyes safe from paint drops, especially when they painted at height or used spray paint.

They wore gloves to shield their hands from paint and chemicals. They used different gloves for working with chemicals and using water- and oil-based paint.

Respirators and masks that protected their lungs from dust and fumes. They used dust masks or respirators for spray painting.
Conclusion
The painting project achieved great success, elevating the quality and beauty of Heritage Estates Livermore. The building now has colors and finishes that suit its form and function. The residents enjoy their enhanced living space which boosts their well-being and health. The painting crew did a superb job by dealing with challenges and following safety measures. 
Plan your future commercial painting in Concord, CA projects with us at Custom Painting, Inc. We can manage your project, regardless of whether you have a vision for your next painting job or you want a professional opinion to guide your color selections to enhance your brand. To arrange a home tour and receive a free estimate, contact us at 510-795-0903.