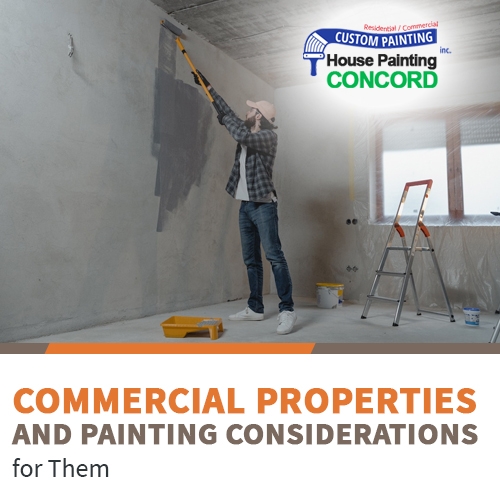 No two commercial buildings are alike. So, considerations for commercial painting in Concord, CA may differ based on various factors. One thing is for sure, though: there is no other alternative than hiring a professional painting contractor to refresh and update your space. This article discusses everything you need to know about commercial painting.
Reasons to paint your commercial property
Commercial painting is a lot more than changing the color of the wall. Commercial painting can breathe life into an old building, dramatically improve your property's curb appeal, boost the morale of your employees, and attract more customers to keep the flow of profits going. 
The best thing about commercial painting is that it can bring all these benefits for only a fraction of the price of a complete remodel.
Again, considerations may vary in commercial painting depending on many factors. These factors can include the project's scope, the nature of your commercial building, the type of paints previously used, etc. It would help to look at these factors carefully before beginning your commercial painting project.
Choosing the right colors for your commercial building
Whether you're selecting the paint color for the interior or exterior walls of your business space, it is crucial to consider the following important factors before finalizing your decision:
1) The desired feelings of your customers – Every business sells an entirely different product or service. With that in mind, you should choose a color scheme and use it to appeal to the emotions you wish to draw out from your target audience. The better the colors of your commercial building align with your customer's desired emotions, the greater chances you will have of attracting them into making a purchase or availing themselves of your services.
2) The style of your business' location – Every city or neighborhood has a distinctive style and feel to its homes and buildings. Consider your business surroundings' typical style and color scheme to prevent your commercial property from sticking out like a sore thumb. 
Historical neighborhoods, for instance, are strict regarding keeping the same style and color for their homes and businesses. It's always better to double-check the location of your business before starting an exterior paint job.
3) The branding of your business – Consistency in design and color is the key to achieving a cohesive branding of any business. To make your commercial building align with the branded elements of your business, paint it with a color scheme that complements or coordinates with the color of your business branding and logo. It would help if you did the same with your marketing materials and social media platforms. 
What to know before embarking on a commercial painting project
Once again, considerations for commercial painting depend on various factors. But older commercial properties will likely have the same problems, such as fading, peeling, cracking, or chipping paint. You know how faded or damaged walls can negatively impact your business. In that case, it's time to hire commercial painting companies in Concord.
If your business branding and logo require deep, vibrant, or vivid colors, you might have to paint your business property more frequently. That's because vivid colors fade away faster than less vibrant and saturated shades. After a few years, the fading is likely to become more evident. On the other hand, low-contrast colors like beige, yellow, and pink are workable and, thus, do not require immediate repainting.
Preparing for your commercial painting project
There's no doubt that a good paint job will put the business on the right side of its patrons' consciousness. But there's more to painting than merely dabbing a fresh coat of paint onto the building's walls.
A fine-tuned color scheme can go a long way toward retaining existing clients and attracting new ones. In cases where the color scheme depends on the branding, you can add a little variation, such as inverting colors or applying shades. It will create different versions of the branding of your business and enhance its street credibility. In this regard, you may need a professional color consultation, which many painting service companies offer.
You should also look at the weather in your location, especially if you'll include exterior painting jobs in the project. You must consider the weather elements, such as ultraviolet radiation, humidity, frequent rains, etc. These elements are crucial to the rest of your painting project, so ascertain first whether the new paint can stand the test of time on the exterior walls of your commercial property.
Dealing with hazardous substances
Be alert for possible sources of hazardous substances that can harm health and the environment. Lead-based paints and paints with high levels of volatile organic compounds (VOCs) should be eliminated to improve indoor air quality.
Other substances such as thinners, primers, mineral spirits, and varnishes may harbor these toxins and cause health hazards, so you will want to handle them with care.
Professional commercial painters encourage the use of low- or zero-VOC paints that are safe and environmentally friendly. They also offer many other things in the way of dealing with moisture problems, mold and mildew infestation, water leakage, and dry rot.
Finding the right commercial painters
Considering everything, it's time to find the right painters to work on your commercial property. You should take this very seriously–remember that hiring a painter is an investment. 
It is no longer enough for contractors to offer a consultation, inspection, or paint job estimate. Instead, you should consider contractors with extensive experience and expertise, a valid and active license, and general liability insurance and worker's compensation insurance. These requirements are crucial – especially the license and insurance – as they will give you peace of mind should accidents and injuries among the workers occur while they are painting your property.
Communication is also the key to a smooth and successful paint job. Look for how the painters carry the conversation and treat their clients. If you sense good and clear communication, professionalism, and respect for your choices, they are often good signs of a reputable commercial painting contractor.
Online references and reviews can give you an idea of what to expect from the contractors you're interested in hiring. They are a testament to the efficiency, trustworthiness, reliability, and quality of work the contractor is known for.  
A fresh coat of paint with a new and exciting color scheme renews your commercial space, drawing in more customer traffic. When you hire a licensed painter near me in Concord, CA, make sure they have the experience, proper credentials, and high-quality supplies so that your commercial space looks good for many years to come and won't need premature repainting. Contact Custom Painting, Inc. if you're looking for quality commercial painting services in the Bay Area!