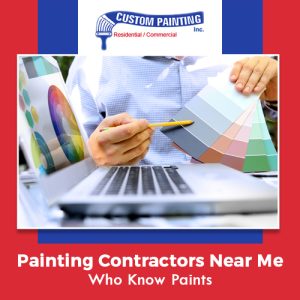 What is the difference between painting contractors near me in Concord, CA, and amateur DIY painters? A lot, including knowledge of paints products.
Of course, you can expect to see plenty of experience with a professional painter. While anyone can hold a brush and apply a dab of paint to any surface, painting is a very technical skill requiring years of training and practice.
It's not only about applying a fresh coat of paint to the walls. The truth is painting is a very involved task that also includes diligent surface prep work and taking safety measures, especially when tackling paint projects that can put workers at risk.
There are also specialty paints if you have ever heard of them before. A professional painter usually deals with different paint manufacturers and suppliers. However, the best painters are those with knowledge of the smaller, independent, "boutique" paint producers known for their environmentally-friendly paint products.
The most common types of paint
If you're planning an upcoming paint project and don't know which paint to use, looking at the two most common types of paints should make for a great start:
1) Latex
Latex paint is a water-based paint with glycol or glycol ethers as solvent. Despite the name, latex doesn't contain latex from the rubber plant. Instead, "latex" refers to the resin (binder).
Over the years, latex paints have taken over oil-based paints as the popular choice for nearly all paint applications.
Pros of latex paint:
Dries fast
Doesn't yellow over time
Easy to clean up – all you need is just soap and water
Durable
Flexible
Adheres exceptionally well to both interior and exterior surfaces
Environmentally friendly
More resistant to common paint failures such as fading, cracking, and peeling
More widely available than oil-based paints
They come in various colors and finishes
Cons of latex paint:
It can sometimes swell on wood grain, requiring sanding between coats
It may require multiple coats, significantly when changing wall colors
2) Oil-based
Usually, latex paints are sufficient to fulfill your painting needs. But oil-based paints or alkyd paints may also be used in some circumstances.
Oil-based paints are generally used on wood and metals. Before the arrival of latex paints, oil-based paints were the only choice for painting homes and businesses.
Pros of oil-based paint:
Hard, durable finish
Resistance to moisture
It offers a greater flow and leveling
Less shrinkage, mainly when used on wood
Cons of oil-based paint:
Prone to yellowing
High levels of volatile organic compounds (VOCs) give off harmful fumes.
Laborious to clean, requiring a paint thinner or other suitable cleaning solvents
It is hazardous to the environment, thus requiring proper and responsible disposal (you can't rinse it in the sink or drain!)
The types of paint finishes
When you haven't decided on a finish, allow the contractor to choose the right one, depending on the room's surface.
Flat or matte – Flat or matte paints have the dullest finish. They have the most pigments, making them ideal for hiding surface imperfections. Flat paints are the least durable and don't stand up to rubbing, washing, and scrubbing. Use this type of paint finish for low-traffic areas such as the bedroom. Flat paints are also great for ceilings.
Eggshell – If the name wasn't an obvious clue, the sheen of this paint finish resembles that of a chicken egg. Like flat or matte finishes, eggshell offers good coverage. However, it is more durable and resists stains better than flat. It's also easier to clean. Eggshell can hold up well in areas with medium traffic, such as dining areas.
Satin – Eggshell and satin are among the most popular finishes, especially for interior painting. Despite the name, satin is known for its velvety sheen. It's durable and easy to clean but somewhat challenging to apply. This is why your application technique is critical using this finish, as brush strokes can be pretty noticeable. Consider applying satin in high-traffic areas such as children's playrooms, foyers, kitchens, and bathrooms.
Semi-gloss – Semi-gloss paints are shinier than satin finishes. Their durability makes them ideal for kitchens, bathrooms, or anywhere else that require a great deal of cleaning and scrubbing. However, semi-gloss paints do poorly in covering surface flaws. Incorrect application can result in ugly brush strokes, which you'll want to avoid when using this paint finish.
High-gloss or glossy – As the name implies, high-gloss paints offer the highest degree of sheen and durability. Whatever color you choose, this finish will be a standout feature of any room. High-gloss paints have a hard finish that stands up to wear and tear. Remember that the high-reflective surface can draw attention to dents, bumps, and scratches. Consider applying high-gloss paints on kitchen cabinets, trim, and railings.
"Green" paints
Green paints contain very little or no harmful chemicals, usually found in traditional paints, primers, stains, and other finishing coats. As you might expect, they have very low or no VOCs, making green paints safer for health and the environment.
Many of these paints have natural ingredients, including clay, some plants, and even milk. The great thing about green paints is that they offer almost the same quality as conventional paints sans harmful fumes.
Green paints – especially paints containing natural ingredients – are usually more expensive than traditional paints. However, switching to "green" or eco-friendly paints may be worth the extra cost, especially if you're getting more conscious about your health or the environment.
If you want green paints for your home or business, find a contractor who knows the supplier of such paints.
Painting contractors near me in Concord, CA, are the best sources for quality paints, primers, and other coatings. Because of their experience working with various types of paints, they will give you the best product recommendations for interior or exterior paint applications.