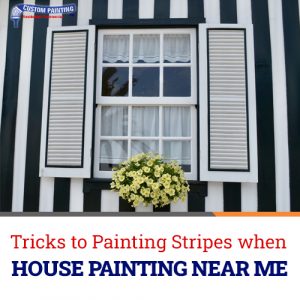 Painting stripes on the wall is a great and cost-effective decorative technique in house painting near me. It is trendy to bring interest and excitement to a tired room. Painting stripes on the wall also allows your creative ideas to create unique designs that suit your personal style.
The ideas for painting stripes on the walls can range from simple and subtle to bold and striking. You may want to choose between horizontal or vertical stripes. You can also go with colors that are slightly lighter or darker than the current color on your wall or go for a loud and eye-catching hue. It's entirely up to you.
Which stripes are you going to paint?
Do you want to add stripes to your walls but don't know where to start? First, look at your room. Is it small and cramped? Is it a bit too low? It's essential to identify which stripes work best for your room. Vertical stripes will make the space look higher than it is, while horizontal stripes will create an illusion of a spacious room.
No matter which stripes you choose, their width (thickness) will affect the amount of work required and how busy your wall will look with them.
Materials needed:
• A paint for base the base color
• Another color for the stripes (one, two, or more different colors, if you prefer)
• Tape measure
• Pencil
• Painter's tape
• Drop cloths
• A step ladder
• Paint roller and covers
• Primer
Steps:
1. Plan
It's essential to plan everything out before you start painting. Unlike regular painting with one color, more colors and measurements are involved when adding stripes to the wall. Thus, it requires thorough planning and organization. You have to identify the exact type of stripes, their thickness, as well as the paint color and finish, and gather the necessary tools for the project.
2. Prepare the walls
It's crucial to do prep work on your walls before painting them. First, wipe them with a clean, damp cloth. Inspect the walls for any flaws. Fill any cracks and holes with a drywall compound and let it dry. Once the compound is dry, sand the excess to make the surface smooth and even. Apply the primer on the walls and let it dry.
3. Paint the walls
Paint your entire room with the base color. When using several colors for stripes, make sure that the base color is the lightest of all the shades. That way, you will only add dark or colorful stripes on top of the base color rather than having to paint each stripe individually. Let the paint dry, preferably for roughly 48 hours.
4. Measure the walls
Measuring the wall ensures how many stripes and how thick they should be to fit your entire room. This step is also vital if you are particular about the colors that you want your last and first stripes to be unless you're using only one color for them.
Using your tape measure, measure your room's width and height for the horizontal and vertical stripes by inches. Next, divide this figure by the number of stripes you want to determine the width of each stripe.
5. Mark the stripes
Measuring and marking are the not-so-secrets to painting straight lines. Mark the precise position of your stripes using a colored pencil and tape measure. Make sure to draw all the lines as straight and level as possible.
6. Tape the walls
After drawing all your lines:
• Apply painter's tape along the edge of the ceiling, electrical outlets, and woodwork.
• Carefully tape along the outside edge of all the stripe pencil marks to ensure that all stripes will be even.
• Don't forget to press down the tape edges firmly to prevent the paint from getting underneath the tape and give your stripes a clean and crisp edge.
7. Paint the stripes
Paint the stripes on your wall using a roller. Make sure to roll over the edges of the tape so the lines will come out straight and clean. Apply the second coat, if necessary, to achieve a more beautiful finish.
8. Remove the painter's tape
Use care when you remove the painter's tape carefully and gently while the paint stripes are still wet. This care will reduce the chances of pulling off some paint. You should remove the painter's tape at an angle to prevent messing up your paint job.
Do you want more paint tips?
While paint protects your home from external elements and strengthens your walls, it is also a great way to adorn it. Turn to professional house painting near me professionals for basic and decorative painting tips to make your home look even more beautiful.