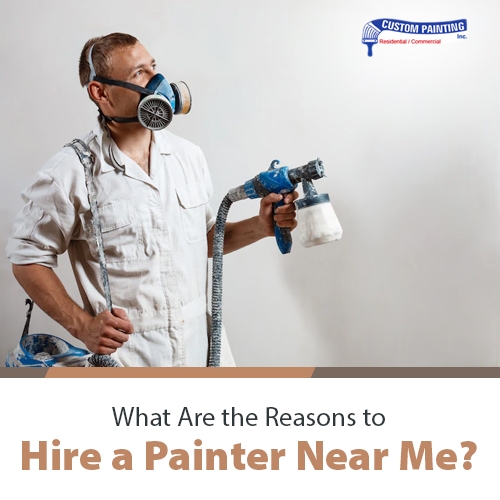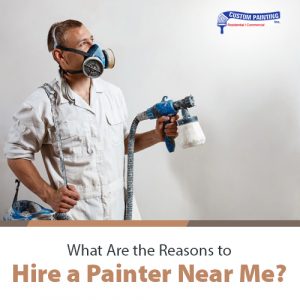 When homeowners cannot afford a full-scale renovation due to budget constraints, they paint their homes alone or hire a painter near me instead.
Indeed, homeowners choose painting for a lot of reasons. However, the number one reason is that it's a budget-friendly way of improving, updating, and transforming the look of their homes. 
While some DIY house painters do well, especially when tackling smaller painting projects, sometimes they don't feel like they're at their peak and would instead take their weekend off. Or they realize the urgency of having their homes painted but do not have the time, patience, or suitable tools. Therefore, hiring a professional painter is the only way to solve these dilemmas.
Of course, who doesn't want to save money and live in a beautifully painted home? Again, hiring a professional painter will make your desires happen.
We know what you're thinking right now – hiring painters is expensive compared to doing the paint job yourself. Yes, hiring a professional is counter-intuitive because it is more costly than going the DIY way – at least, initially.
However, this article explains why hiring a residential house painter can save you more money than you think, especially if you plan to have a big interior or exterior paint project. Aside from saving money, you will be able to enjoy more benefits of hiring a professional house painter:
Experience
An excellent paint job makes a home look brand new. A sub-par paint job makes you want to close the door to avoid seeing the pain of poorly chosen colors or the sight of ugly brush marks.
If you see the work of a professional and an amateur house painter, you can immediately tell the difference. 
It's because professionals spent years perfecting their craft. They're highly skilled in their trade (and art as well), and you can see right away in their finished product. When the finished product is smooth, flawless, and well-executed, you know you'll get your money's worth.
So, it's a little wonder why most clients prefer residential house painters with several years of experience in the industry. They bring an immense amount of value to the table. Their experience alone is worth the buck.
Painters will take care of the prep work.
Surface preparation before painting the walls takes a large chunk of any paint job. There's the cleaning, washing, rinsing, patching cracks and holes, caulking, and priming. That's a lot of work, indeed. Do you want to spend several hours prepping the walls?
Not just that. You also have to remove furniture, wall decor, drapes, etc., and protect the other surfaces from paint with drop covers and painter's tape.
Prep work can be long, laborious, and tedious, and you would admit that you'd want to go straight to painting. However, the pros know how vital it is to prepare the surface before painting. Surface prep work is the key to a beautiful and long-lasting paint finish. They will take the time necessary to clean and prep so that your new paint will stick better to the surface and hold up under the wear and tear of everyday traffic.
Not only do painters do prep work, but they will also clean up after themselves and put everything back in order.
Painters know their products.
If you have no idea about suitable paints for your bathroom or kitchen, you might end up with a paint that attracts mold rather than resists it or a flat paint that's difficult to clean when splattered with grease. 
Choosing colors can be overwhelming. You may choose the wrong color or shade for your home. You may never realize that your favorite shade might make your room claustrophobic or irritating.
Professional painters will help you select the best paint for every room in your home. You'll end up with the best finishes and colors.
Painters bring the right tools.
The average homeowner may have a handful of brushes and even a roller in the garage. But what most people don't realize is that they need the best brushes and rollers.
Paints require different brushes and rollers, and your professional painter knows that. Don't forget the quality drop cloths that protect your floors and surfaces from paint.
Contractors who specialize in residential painting bring nothing but the best tools. They know how to use each one. Another advantage of hiring a painter is that they bring their tools, so you don't have to invest in new tools that you will use only once.
License and insurance
You may hire a cheap painter who offers no license or insurance if you want to save money. If you choose to get quotes with low rates for painting services, likely, the painter is not licensed and insured. Some painters have fled after receiving the initial deposit, doing a partial job, or leaving your home with a shoddy paint job.
We've also heard stories about contractors who got injured or damaged a home on the job. Accidents happen. What shouldn't happen for the homeowner is to lose sleep over an incomplete paint job, medical expenses for an injured painter straight from their pocket, or even a potential lawsuit because the painter tripped and fell from the stairs.
A professional painting contractor who's licensed and insured will protect you and your home from these incidents. You can rest easy when working with a licensed and insured painter.
It saves you time.
Unless you have lots of time to spare, most homeowners can find a free moment to get tasks done right, such as painting a kitchen or bathroom, which requires a significant amount of time.
A paint job is more than just painting surfaces. There's moving the furniture, taking down drapes and decor, taping the wall edges, cleaning the walls, and even buying paints and supplies, which take a lot of work and preparation. That's not even including the time it takes to paint the walls and let them dry. Then, once the painting is done, you'll still need the time to clean up, put back all the furniture, and re-install the drapes and wall decor.
When you hire a professional painting contractor, you will save precious time and focus on other things that need to get done. Leave the job to a company that does painting for a living.
If you're ready to start your next painting project and want to hire a painter near me to get the job done, give Custom Painting, Inc. a call today to receive a free estimate.