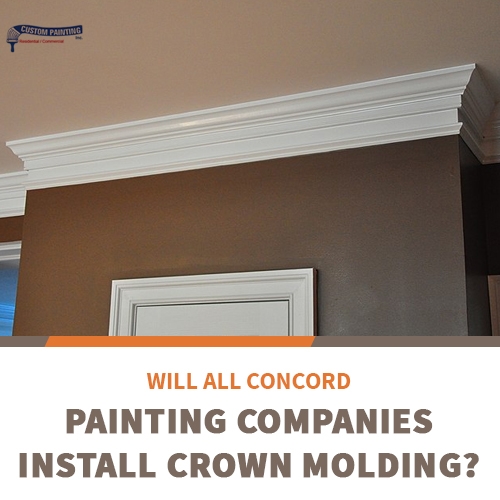 If you're looking to enhance the look of the interiors of your home, one of the ways to do it is to install crown molding. But you've also chosen to have your rooms repainted, so you're looking for one company who will do both jobs. But do Concord painting companies install crown molding, too?
Crown molding is a decorative element typically used for capping between the interior walls and the ceiling. It is also used for capping cabinets and columns.
Advantages of crown molding
In addition to the aesthetic factor, there are a few other benefits that crown molding can offer:
It hides imperfections.
It makes the interiors look more finished.
It diversifies style options.
It makes the ceiling appear higher than they are.
It increases your home's value.
Is crown molding only for traditional homes?
There's no doubt crown molding adds an upscale elegance to any home. Some of you might wonder whether crown molding is suitable only for homes built in classic or traditional architecture.
Absolutely not! Crown molding comes in different styles and profiles. You might be surprised to find crown molding with sleek, simple, and minimalist styling that can still provide detail and interest. Or, if you want, you can have your crown molding customized to the style you have in mind. So, ultimately, the choice is up to you.
Types of crown molding
Below are some common types of crown molding:
Plaster – Plaster is the best option to make your interiors grand. This type of crown molding can be cast into detailed profiles. But, as you might expect, it can be costly. It also tends to crack easily.
Solid wood – Wood can be made into different simple stock profiles. It's also possible to make solid wood more ornate by embossing wood composites onto solid wood. But the downside of this type of crown molding is that it can shrink, warp, or swell due to moisture or weather changes.
Medium-density fireboard (MDF) – MDF is a stable and low-cost alternative to solid wood, available in various stock profiles. It can be painted or stained. However, MDF can be susceptible to nicks and dents.
Polyurethane – Polyurethane is also one of the less costly options. If you're looking for crown molding that won't shrink or warp and can resist insects and rotting, go for this type. Remember, though, that polyurethane is relatively soft, so it's also prone to dents.
PVC – If you want to add crown molding to bathrooms, washrooms, kitchens, or other areas where moisture is a concern, PVC is the best option. PVC is resistant to moisture, so it won't warp, shrink, or rot, no matter how wet it gets. However, its stock profiles are limited, so PVC crown molding rules out elaborate designs, mainly due to its slick surface.
Flex – Flex, as the name implies, is rubbery and elastic. It is typically used for curved walls and window bays. Not surprisingly, it comes in a wide array of profiles that can bend around a column or curved wall without requiring relief cuts. But like plaster, flex is costly and needs to be made to order.
Polystyrene – If you need some DIY interior design in a hurry, polystyrene crown molding should be the answer. All you need are a knife or scissors and construction glue. However, polystyrene has a thin texture and less-than-clean edges.
Can – and will – painting contractors install crown molding?
Fortunately, you can find many painters in and around the Bay Area who install crown molding. Depending on the type of crown molding, they will paint or stain it afterward.
Look for professional painting contractors in your area and ask if they also install crown molding. If they do, they will include it in their estimate.
Custom Painting, Inc. also specializes in custom crown molding installation. Our skilled team can help transform the look of your room or your entire home. Our carpenters and painters have the knowledge, tools, and expertise to produce your desired look. If you would like us to repair or replace crown molding, we can do that.
We can install crown molding in virtually every room. If your room has curved walls and rounded ceilings, installing crown molding can be tricky. But if you choose a specific crown molding (such as flex, which can be expensive), we will accommodate your request and include it in our estimate.
The style of your room helps to determine which type of crown molding will suit it best. You can find a variety of styles, such as baseboard molding, chair rail molding, door, and window molding, and trim molding, to name a few. Many painting companies that install crown molding, like Custom Painting, Inc., typically provide free color and design consultations to save you from stress and trouble. Call us at (925) 294-8062 or visit our website and request a free estimate!