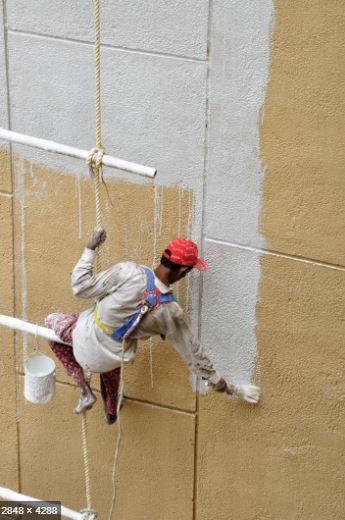 Sometimes, clients could not help feeling hesitant when looking for a commercial painter in Concord. It's only natural – they do not want to ultimately spend their money on contractors who cannot deliver the job as promised.
That's why clients would make a list of important questions that they want to ask to every candidate, before hiring the right company to do the job.
1. How long have you been in the business?
Regardless of industry, customers generally prefer companies who have been in the business for a significant number of years. Longevity in the business, wealth of knowledge and experience in their field, and a stellar track record always go together in harmony to become a company that has proven stability and credibility. It's also true with commercial painters.
There are also newer and less experienced paint service companies that have quickly gained a name and reputation due to their exceptional service and customer relations. But in case you decide to consider a company with less experience, ask them for reference and do some background check to make sure that this is a reputable and reliable company.
2. Are you licensed and insured?
Some of the most important discussions not to be forgotten is a company's licensing and insurance. In California, these things are required for business establishments and professionals, including commercial painters.
When a painter is licensed, he must also be insured. Licensing is required for establishments and professional to operate legitimately. A contractor's insurance, on the other hand, will protect you (as a client) in case the painter is injured while working at your property, or in case the painter causes damage or loss to your property.
However, you should be aware too about contractors who still operate despite their expired licenses (or their absence thereof). That's why you should still ask them for proof of licensing and insurance to confirm their validity.
3. "Do you subcontract or employ your own workers?"
There are painting contractors who use subcontractors, instead of using their own workers. The main reason? To cut costs to make more money, because contractors do not have to bother with other things, such as paying employee benefits to the subcontractors.
Subcontractors are typically paid with a flat rate, so they will cut corners to get the job done quickly – often in a sloppy, slapdash manner. Result? A poor and inferior paint finish.
That's why it's always better to hire commercial painting companies who employ their own staff of highly trained, experienced, licensed and insured workers. With that kind of company, it's guaranteed they will deliver the job as fast and as efficiently as you expect.
4. "Do you give references?"
The best painting contractors Pleasanton and other painting companies who provide up-to-date lists of their own references are companies who are confident in their overall performance. The list of references will help you in contacting the contractors' past clients, who will give their feedback (be it positive or negative).
However, beware of painting contractors with dubious reputation who provide a list of their friends and relatives. These people will say only positive things, ultimately tricking the clients into hiring such bad contractors. To avoid this pitfall, ask the reference with specific questions regarding the project. If the reference appears unsure, has no idea about the project, or gives questionable responses, you may have to think twice.
5. "What kind of materials do you use?"
Asking the contractor about the kind and quality of paints and materials that they use is also important, because they will create a direct impact on the result of the painting job. When you discover that the contractors indeed use high-quality materials, you'll know that the resulting paint job will look good, as well as durable and long-lasting.
6. "Do you offer written warranties?"
Reputable contractors provide only written warranties. Written warranties will protect you from any anomaly or irregularity that may arise because of poor workmanship, and/or the use of inferior paints and materials.
You should be aware about the things that contractors typically cover, as well as the things they do not cover, as expressed in their warranty. In case you notice the defects sooner after the work has been done, then you can blame on the poor workmanship, and have the contractor called back to address this problem at little or no cost.
But if you see other issues such as leaking roof or molds and mildew, don't expect your contractor to cover them, as such issues are not included in their warranty. You may still want to avail yourself of their services, but it also means you must pay them with full regular service fees.
You may have other questions in mind. However, the set of questions above will be just sufficient in hiring a commercial painter in Concord who is qualified to work for you. Asking the right questions will also prevent you from hiring bad contractors, who will turn out to be a waste of your time and money in the end.