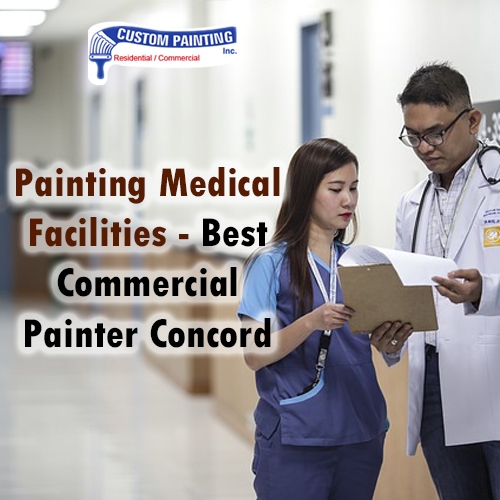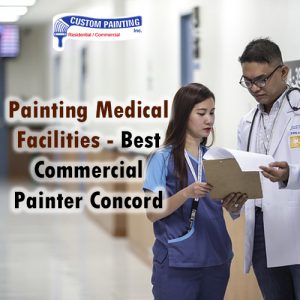 The best commercial painting in Concord companies are aware of their responsibilities when doing their jobs at certain projects or sites. They know that painting medical facilities is not just about painting them with pretty colors. Of course, they also think of all the people there – the medical staff, employees, and patients – and with those people in mind, painters aim to make medical facilities safer and more hygienic.
This type of painting project is a sensitive yet complex task. A lot of medical facilities like laboratories, hospitals, doctor's offices, and clinics are open round the clock, so one of the challenges of painting them is setting a proper schedule. Commercial painters will work with the clinic or hospital administration in setting a schedule in a way that it won't disrupt the normal flow of operations. They may work during the evenings, on weekends or holidays. They may also work in unoccupied areas such as empty hospital rooms. Commercial painters maintain a clean work area to minimize disruption to your daily operations and to reduce the risk of costly accidents while finishing the project on time.
The health of all the people there, including that of the employees and especially the patients, is of utmost and critical importance when painting such medical facilities. Many patients are sensitive and allergic to certain odors and fumes which may cause them more serious health effects. Painters use low-VOC and no-VOC products in painting medical facilities so that patients will be able to enjoy a freshly painted environment without the noxious odors that are usually associated with freshly applied paint.
There are also considerations of contacting bacteria from certain areas and even everyday objects. Commercial painters use anti-microbial coatings and install anti-microbial flooring to ensure a more hygienic environment and to promote healing.
There are more challenges that commercial painters may face when dealing with such sensitive yet demanding areas. They may work on multi-million-dollar medical equipment which requires careful and meticulous handling. They may work at fast-paced and unpredictable environments such as emergency rooms, or deal with more stringent areas such as operating rooms. Yet, most reputable painting contractors can be relied on when it comes to these situations, especially when they have extensive experience in working at hospitals, clinics, institutions, laboratories and doctor's offices.
Health facilities use color in several ways, depending on their purpose. It requires thoughtful consideration before picking a suitable color for certain areas of a hospital or a clinic. As we all know, colors can evoke certain moods and emotions. Patients prefer lighter hues for their rooms – from the walls to the furniture, so neutral palettes will work best for them.
Certain colors have a calming and tranquilizing effect and are used to suppress certain feelings or behaviors. The extensive use of certain colors such as blue, violet and green can create a calming and comfortable atmosphere for patients. However, such colors are known as appetite suppressants, so they may not be a wise color choice with patients suffering from certain conditions (such as anorexia nervosa).
Certain colors like orange and shades of yellow can stimulate the appetite. But you can't see a lot of oranges and yellows in medical facilities which treat patients with behavioral health problems, because these colors can incite aggression. Instead, shades of pink are used because pink is a tranquilizing color which weakens one's energy, thus undermining the patient's tendency to have aggressive and violent outbursts.
For younger patients, their rooms can be decked in bold and bright colors, and the same way goes for children's playrooms in clinics and hospitals, nurseries as well as pediatric offices.
The best commercial painting in Concord contractors know that your hospital, laboratory, clinic or doctor's office deserves more than just an average paint. These painters are highly skilled and experienced to meet the everyday challenges in painting medical facilities. They always put you and your patients' health and safety as their top priority by creating a space that's more hygienic and wholesome to the senses.