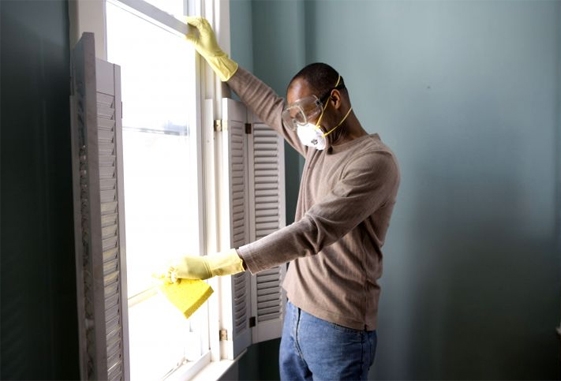 Cleaning, prepping and painting are always part of interior house painting in Concord. Proper cleaning and prepping of the surface are the keys to a good and professional-looking paint finish.
At one point, you may ask yourself: how much cleaning is needed before you start painting? There is no definite answer to that. It depends on the size of your room, and how much dirt your walls have, and the number of furniture pieces and fixtures as well as the amount of clutter that should be removed.
Of course, the first thing you need to do is to remove as much furniture as possible. If you have any furniture that's too big or heavy to be moved out of the room, cover them with a plastic or a canvas drop cloth. Take off anything that is attached to the walls and ceilings such as frames, decorations, curtains, lights and mirrors. In removing light and electrical switch plates, loosen them from their fixtures, and wrap the electric components with painter's tape.
Clean the walls and ceilings thoroughly. People may be too lazy to do a laborious cleaning on the walls, but what they don't realize is that a thoroughly clean surface is the key to successful adhesion of paint. A dirty surface will not allow the paint to stick well on the surface.
Don't just use a wet rag and proceed to paint. If you're cleaning kitchen walls for instance, you may notice oil, grime and smoke stains from cooking. For this, use a small amount of detergent and bleach, or a specially formulated cleaning agent for the kitchen walls. Have two buckets of water — one with the cleaning solution and another one with just water for rinsing the walls. If you want a quicker cleaning job, use warm water and vinegar, then use this solution to clean the walls — no rinsing required.
For more stubborn stains such as pencil or crayon, use a stronger cleaning solution. Use a sandpaper to get rid of any dull glossy marks on the surface to smoothen it out, then sweep off the dusty residue after sanding.
Inspect the walls for any flaws such as cracks, holes or any other crevices. If needed, remove any old, loose plaster cracks from the surface by using a putty knife. Next, fill these gaps and holes with a lightweight spackle or putty.
Check also to see if there is any peeling or cracking paint. If there is any peeling paint, loosen it by again using a putty knife. Use sandpaper to smooth the surface, and then clean the sanding debris from the wall and off the floor.
In covering floors, it's highly recommended that you use canvas drop clothes instead of plastic. Plastic is harder to work on as it is slippery, thus it can cause accidents. It may be a cheaper alternative and is also disposable, but think of how much money you could have wasted by throwing away the plastic cover after using it. Canvas drop cloths may cost a bit more, but they are otherwise non-slippery, flexible, and can be stored and used again after any paint drips have dried. They are also safer for the environment.
After cleaning, drying and repairing the surface, it may be time to prime the surface. Actually, priming may not be necessary for brand-new walls, but it is needed especially when your walls are painted with an oil-based paint, or covered with paint with a glossier finish. You can skimp on the priming part by buying a paint which is already mixed with primer. Just one coat of such paint is all you need to cover the surface. Since paints with gloss tend to show more flaws, it is important to take note of the areas where you have applied putty on cracks to be sure the repair isn't noticeable.
Tape areas where you don't want to apply paint — adjacent walls, woodwork and electrical switches. Light switch covers, doorknobs and electric plugs can either be covered or removed for a time.
Really, how much cleaning you need depends on how big or small your room is, how much dirt you need to clean off, and how much furniture and fixtures you need to temporarily remove. But regardless of how much cleaning you need, it is still important that proper and thorough cleaning is the secret of a successful finish in house painting in Concord.