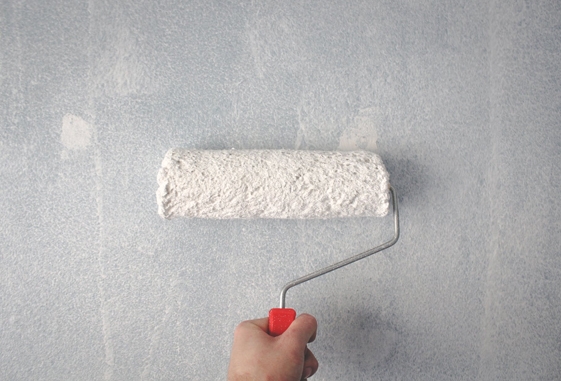 Which of the following methods is really the "best" when house painting in Concord: rolling, brushing, or spraying? It depends on how you are comfortable or easy you find each method. Let's do a comparison on each of these methods.
Brushing is the most common and traditional method. Brushes come in several different shapes, sizes, widths, lengths, type of bristles, quality, and price. Brushes can be wide with a large durable handle which is ideal for painting wide and smooth surfaces, or can be smaller and narrower with more easily maneuvered handle for painting on corners and other smaller, narrower areas with accuracy.
You can even find specialty brushes such as one type with almost no handle which will allow painting confined areas such as the inside a set of rails. There is even a foam paint brush which helps remove the brush strokes that shows up when a corner or a piece of molding has been coated with paint. When a roller cannot cut in the corners, for instance, a brush will be able to do the job. Brushes are the perfect choice for "cut in" work around doors, windows, trims (baseboards and crown molding), soffits, and any other openings. In fact, using a brush will almost be the only method needed when two surfaces meet or on any surface that needs a good edge but doesn't apply itself to masking.
Rollers are usually ideal for painting large, wide, and flat surfaces. A roller basically has two parts: the roller which has a handle and the moving spindle which carries the roller cover, and the roller cover which holds the paint and applies it to the surface. Rollers can be disposable or reusable, and come in a variety of nap sizes and are made from either natural or synthetic materials. The nap can be either thick and furry or thin. The different types and materials will render the roller to effectively paint on a wide variety of surfaces. The surface as well as the paint being used should be considered when deciding on the thickness of the roller cover nap.
Rollers are also available by width. The wider the roller, the more paint it can hold. A quite wide roller can hold more paint than the widest brush can hold. The advantage of using a wider roller is that it can cover a much larger area without ever having to go back to dip into the paint bucket. Wide rollers can also have very long handles. Extension poles for these rollers are also available for painting high areas (such as ceilings) without needing a ladder. Rollers are generally best suited to paint wide-open surfaces — such as the middle of the wall or a fence — than smaller areas.
Among the three methods, spraying is a relatively new means of applying the paint to the surface. A sprayer is a kind of machine that has a compressor to take paint from any container and spray it out in a fine mist. One of the advantages of using a sprayer is that it can cover larger areas than both a brush and a roller. Another, unlike brushes or even rollers, spraying doesn't leave any unsightly traces, resulting in a more even painting job.
Sprayers have greatly improved over the years. Even relatively cheaper paint sprayers will still do a good job of evenly painting the surface without having to use a thinner. Sprayers can be adjusted to cover smaller and narrow surfaces; however, fine control and overspray still present some issues. If you have to spray a particular area, it should be carefully masked or covered. When spraying paint, air must be calm and stable, but unfortunately this doesn't always happen when house painting in Concord.
Apart from the abovementioned disadvantages, sprayers do not come cheap compared to brushes and rollers. If you have to paint different colors but are using just one sprayer, you will have the trouble of taking the sprayer apart and to clean it before pouring the next color of paint into it. There are also issues regarding a sprayer's ability to cover a certain surface. For instance, spraying is inadequate when trying to cover porous or rough surfaces such as stucco. For this, back-rolling is the next necessary step after spraying paint. Back-rolling is slightly faster than just rolling on the paint to the surface. However, it still does involve going back to cover the entire area again to make sure that the paint is absorbed into every tiny hole of the surface.
So considering the three painting methods, which one is the best? Again, it depends. While seasoned painters can paint accurately and easily with brushes, painting is definitely faster when using rollers. Sprayers are even quicker and can cover large, wide surfaces. But again accuracy, fine detail and coverage problems are still associated with sprayers. Neither spraying or rolling is good enough for covering small spaces, detail and "cut-in" work which brushes are indeed capable of handling with ease. Each of these methods has its advantages and disadvantages. So the most likely scenario is that you should use at least two of these methods, depending on a particular project, when house painting in Concord.