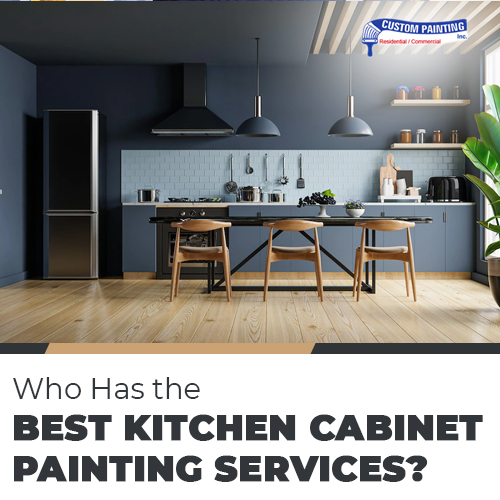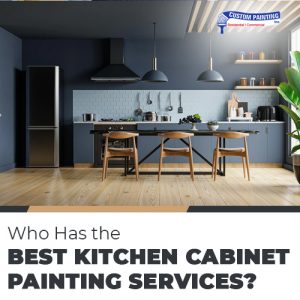 The kitchen is one of your home's busiest areas, and kitchen cabinets are exposed to many elements, including oil, grease, dust, and humidity from steam and heat. A fresh paint job to your kitchen cabinets does more than look good. A quality exterior paint adds a layer of protection, making your cabinets protected from the elements mentioned. However, the best kitchen cabinet painting services consist of suitable surface prep work, which is the best way to achieve an excellent paint finish.
Painting is a relatively easy and cost-effective way of making your kitchen cabinets look good without spending a lot on refacing or replacing the entire cabinetry. If your kitchen cabinets are still in good condition, there's no reason to reface or replace them other than a few nicks and scratches. It is also a great fix if you still like the style of your cabinets but want to change the color.
Kitchen cabinets protect your food supplies, utensils, and appliances from dirt, grime, heat, moisture, and pests. They also take much beating from everyday kitchen traffic, with all the opening, closing, cleaning, handling, and resisting any impact from the outside that can cause scratches and dents. That's why they deserve some "love" by repainting them.
Removing handles and other hardware cabinet parts, cleaning, fixing any surface flaws, sanding, and priming are essential steps in preparing your kitchen cabinets for painting, ensuring that the topcoat will adhere to the surface.
You'll want the new cabinet color to complement your kitchen tiles, countertops, flooring, and overall color scheme. However, you don't have to feel pressured to make everything match – a little contrast can make things interesting. Consider your region's climate when choosing paint colors. For instance, if you live in a warm area, you may want to avoid dark colors as they can magnetize the sun's heat.
Gloss is vital as colors when choosing paints. Generally, flat or matte paints are not recommended for painting kitchen cabinetry as they can attract dirt and are difficult to wash and clean. However, recent innovations have brought washable, flat paints that can be suitable for painting cabinets. Still, it would be best to go for paints with gloss instead. Higher-gloss finishes are more durable and thus, stand up better to daily use. They are also far easier to clean without dulling the color over time. Semi-gloss and gloss paints are the most recommended finishes for painting kitchen cabinets, especially for doors. If you choose to paint the interiors, paints with a lesser gloss like eggshell and satin are suitable as they can stand up well to the weight of stacked dishes, jars, smaller kitchen appliances, gadgets, etc.
Once you've chosen your paints, primers, and tools, check out this article on how to paint kitchen cabinets, and you'll be on your way to a brighter and fresher-looking kitchen.
Or, if you want to handle the job with someone more experienced, what to expect from the professional paint contractors to work on your kitchen cabinets? Who has the best services to paint your kitchen? And what separates true paint pros from fly-by-night contractors? Here are some qualities of trustworthy professional paint contractors:
Professional paint contractors use premium paints that will last for a long time.
They employ a highly skilled team of workers with experience in painting residential projects.
They take their time with prep work to ensure a successful paint job. Prep work is vital to any paint job's success, including the cabinet paint job, so they spend a reasonable amount of time to make sure that everything is set up and ready to go. The pros clear the area and cover counters, floors, and other surfaces to protect them from paint. Then, they proceed to remove or mask doors, drawers, and hardware, fill any cracks and chips, sand to smoothen the surface, seal the stains, and prime the surface.
They are licensed, bonded, and insured, giving you peace of mind knowing that they will complete the paint job successfully.
Ensure to hire experienced, licensed, and insured residential paint contractors, like Custom Painting, Inc. who will deliver the best kitchen cabinet painting services. With over 40 years of experience providing residential and commercial painting services to Bay Area cities, you'll love your kitchen cabinets refreshed and updated look.