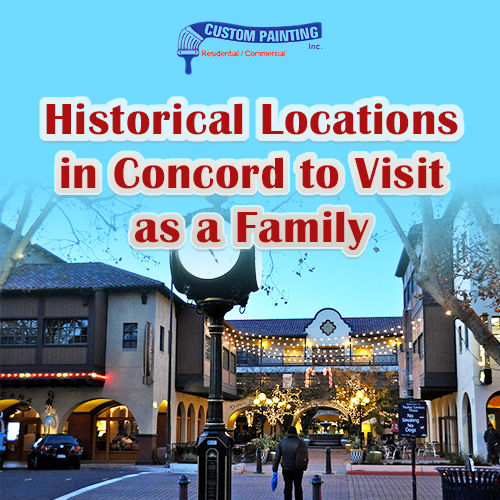 Historical locations in Concord, California are always the best option to visit especially when you're traveling with the family. Many of today's museums and other sites of historical interest have become more interactive, encouraging families, especially children, to get interested in learning Concord's history.
Whether they are popular tourist sites or hidden gems, everything historical in this city is worth checking out. They're just full of fascinating places that were part of Concord's past. They have brought the city to what it is in the present and will hold the key to its future.
Here are five historical locations in Concord and the surrounding areas that families should check out:
1) Francisco Galindo Home
Located on 1721 Amador Avenue, the Francisco Galindo Home was built in 1856 and was owned by the influential Galindo family, who were some of the original Spanish settlers in present-day Concord. In 1880, the house underwent an expansion by adding four new rooms to its original six. The home, which now serves as a museum, has been beautifully and lovingly restored over many decades. It is now listed on the National Register of Historical Places.
2) Don Fernando Pacheco Adobe
The Galindo family (who owned the Francisco Galindo Home mentioned earlier) were involved with the Pacheco family, as some of their members intermarried each other. Located on 3119 Grant Street, northern Concord, the house was built in 1851 as their residence as well as the center of their ranching activities. It is now a California State Historic Landmark and listed on the National Register of Historical Places.
3) Port Chicago Naval Magazine National Memorial
The Port of Chicago disaster is one of the worst tragedies during World War II. It occurred at Port Chicago, San Francisco Bay on July 17, 1944, where 320 sailors and civilians were killed when the ships they were loading with bombs and ammunition suddenly exploded. Another 390 people were injured at the site. Most of the people killed and injured were African Americans, since the US Navy was segregated at the time. As a result of the tragedy, a trial followed that became instrumental in the desegregation of the US Navy forces beginning in 1946.
The memorial, located at the Concord Weapons Station near Concord, honors the lives lost in the tragedy and pays homage to the critical role of Port Chicago during the war.
4) John Muir National Historic Site
While this tourist site is not in Concord itself, the John Muir National Historic Site is located just north of the city. The 14-room Italianate Victorian mansion was the home of John Muir, America's most famous naturalist and conservationist. Built in 1883, the mansion now serves as a museum. Entrance is free, and tours include exploring the visitor center, taking the hiking trail along nearby Mount Wanda, and joining in guided tours.
5) Todos Santos Plaza
Todos Santos ("All Saints") Plaza is a 2.5-acre plaza bounded by Salvio, Grant, and Mount Diablo streets, and Willow Pass Road. In 1868, town founder Don Salvio Pacheco dedicated the plaza to the people of Concord. The plaza features benches, large trees, gardens with colorful flowers, picnic tables, and a small children's play area.
You have to acknowledge the diligent efforts of the city's community to preserve these historical locations in Concord and surrounding areas. Because of them, these historical sites still stand for today's visitors. And they will remain standing for future generations, providing them the chance to understand and appreciate Concord's history.
If your home or business is historical or not, you want to keep it looking great while protecting it from the elements. Custom Painting, Inc. has been serving the Concord area for almost 40 years. Reach out by calling (925) 686-0903 or by filling out their Contact Us form to set up a free estimate or schedule an appointment.