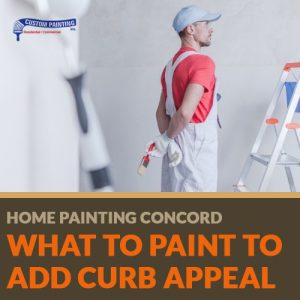 The warmer seasons have just arrived, which means it is the perfect time to do some home improvement projects. If you cannot afford a landscaper, the alternative is to hire home painting in Concord service companies. It is an easy and cost-effective way of updating the curb appeal of your home and even increases its reselling value. Who knew that only a new coat of paint would almost radically transform the look of your home without spending money on costly renovations?
Even if you do not paint the entire exterior of your house, only a few touch-ups can make a big difference. Here are only a few areas where you can paint your house to add its curb appeal:
1. The door
The door may be the first thing your guests notice when they enter your property. You can paint your door with the same color as the rest of your home's exterior or with several shades to create a harmonious effect. But if you want to make the front door more eye-catching, you can add a new, bold color to it that will easily become the highlight of your home. Plus, painting the door is much easier and more cost-effective compared to replacing the entire door.
2. Fences
Some residential properties do not have fences surrounding the yard, and some do. If your home does have a fence, the chances are that they are also the very first thing that people will see as they drive up your street or pull into the driveway. If the paint on your fencing is fading or peeling, a fresh coat of paint will add and enhance your home's curb appeal. You can paint it with the same color or with a different color to add a new look to your property.
3. Shutters
The shutters of your home are both functional and decorative, providing protection and privacy to your home and enhancing its aesthetic appeal. Painting the shutters is also an easy and inexpensive way to refresh the look of your house. Repainting the shutters will add a pop of color and ultimately enhance your home's curb appeal. Adding strategically colored shutters
4. Porch floors
If porches grace your home, painting the porch floors will also enhance some of your home's curb appeal and quickly draw attention from your guests. Porch floors get a lot of foot traffic and are affected by other elements, so be sure to check them for faded color, peeling, chipping, loose paint, or any other forms of damage that can make your porch floor unappealing. Make sure to clean and scrub the porch floors, scrape loose paint, repair any holes, and prime them before proceeding to paint.
You have many options to update the look of your porch floors, from brilliant accent solids to even stencils, which add a new dimension and depth to your front porch. If your porch floors are wood or cement, they tend to work better with paint. But if they are other materials, it is better to consult a professional painter which steps are necessary to paint your porch floors.
5. The building itself
Painting the structure of your home is the best way to boost its curb appeal. Of course, you still have to follow the recommendations of your homeowners' association or your local regulations about the appropriate paint colors you should use. Granted that they allow you to try colors other than the neutral ones such as the whites and the tans, do not be afraid to try something new. Adding charcoal gray or a good shade of red can set off the white-painted trims, for instance. It can create an impact on the way your home looks from the street and will make your house stand out in your neighborhood.
Hiring the best home painting Concord companies is the best move if you want to enhance your home's curb appeal. They can also guide you in choosing colors that will work best for your home.