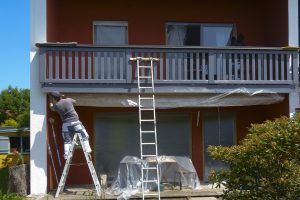 If you've decided not to do the house painting in Concord on your own and instead hand the work to professionals, don't hire one just because they're available. It takes thorough research and investigation in order to hire the right painting contractor to tackle your job. In this article we will provide suggestions on how to find the right house painter.
To start with, a good painting contractor should be professional in his job – having an honest work ethic, doing a clean and flawless job, and delivering an excellent performance. There are contractors who offer incredibly low rates, but you should beware of them because it could be a sign of a fraudulent person/s posing as a contractor. They may work fast because they only want money from you, and delivering a quality job is not their utmost concern.
Contractors with a good reputation may not offer cheap rates like their low-priced counterparts do. However, they make up for the higher rates by delivering a job of superior quality which will be definitely worth your every penny.
As a property owner, you certainly don't want to settle for less. And when you're all about hiring a reputable and professional contractor, consider these following factors:
Reputable painters use only the highest quality paint products and tools. They won't sacrifice quality for low-priced but inferior materials. Other paint contractors offer low rates will use such cheap products of below-par quality. You may save some money at the moment, but is it worth hiring them? Most likely the paint will just fade, peel, chip or produce unsightly flakes. In the end you'll buy a paint of a better quality, or hire a legitimate and professional contractor. Whether you do either of them, it translates into more unnecessary expense. Highly experienced, professional and reputable contractors may be a bit more costly but in the end you'll save considerable time and money because they deliver a good, quality service.
Reputable contractors do the painting procedures the proper, correct and even legal way, whether they do the prep work, cleaning and disposing wastes aside from painting. As implied earlier, beware of the other cheap contractors — they will just paint and ask you for a payment. They won't even bother to do the preparation work and worse, abandon their job unfinished. In the end, you have to do all the work by yourself.A good painting contractor doesn't only paint but also does the proper prep work before painting, and cleaning up and disposal after painting. Hiring the right one means you won't have to do the prep work and the cleanup yourself.
If you're all about quality service and craftsmanship, it's definitely better to hire a reputable painting contractor than a cut-rate contractor. The latter won't care about details in their job, and instead may do fast and sloppy work. They don't even bother to cover or move out the furniture before painting, don't tape the sidings and baseboards as they should be covered, or they paint the doors and windows closed. For a homeowner, there's nothing more frustrating than seeing that scenario! A reputable contractor is serious in his job and pays great attention to detail.
A renowned and trustworthy painting contractor will know and inform you how long the job will take to be completed, unless there are fortuitous circumstances. Cheap contractors, on the other hand, are likely to shirk when faced with this situation.
A good warranty is one of the most important things that you, as a homeowner, should look for in a reputable painter. A good contractor will provide a written (not verbal!) warranty after the work has been completed, so make sure you ask for one.
Regarding licenses, they differ from state to state. A lot of states require companies to have licenses, some states don't. Here in California though, painting contractors are required to have licenses to operate their business. Besides, a company having a licensed is a good indication that that company is reputable and legitimate because they are able to obtain and hold a license.
Another very important thing that you should not forget to look at is that if the contractor is insured. When a contractor is insured, he is covered by the company no matter what happens — whether they are injured or cause damage to your property while they're on the job. That way, you don't have to answer all the medical expenses with your own money in case the workers get accidentally hurt. Hiring a contractor that is insured means you are assured of less headaches and more peace of mind on your part.
Yes, searching for the right contractor seems like a big job already for you on your part as a homeowner. But all the effort will be worth it! Once you have finally hired the right contractor who has quality tools, does an excellent job, pays great attention to detail, provides a good warranty and is licensed and insured — you are assured of a professional and high-quality house painting in Concord!