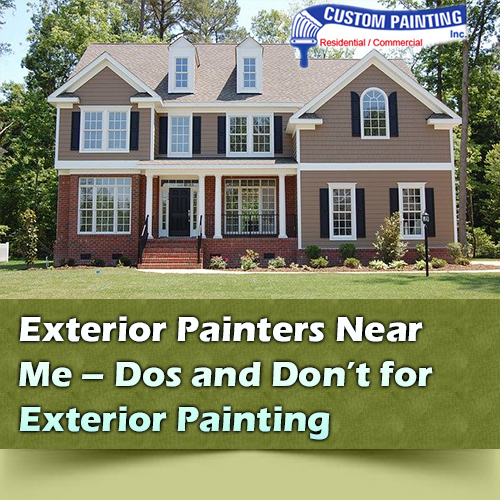 Exterior painters near me have gained enough experience to know what should and shouldn't be done when painting outside. This knowledge is something that DIY painters should take note of before they start painting.
Perhaps you have seen it once or twice in your neighborhood. A house that used to looked blah – or worse, an eyesore – seems to transform overnight, thanks to a fresh coat of paint. Painting the exterior can provide show-stopping results, unlike other upgrades or renovations. A fresh coat of paint, especially a new color, can breathe life into a faded and flawed exterior, changing your home's overall appearance and vibe as well as increasing its curb appeal.
You may DIY paint the exteriors if you have the time and skills for it and if you want to save some money. But to get the best, long-lasting results, hire someone who has professional house painting experience.
As they're skilled and trained, professional painting contractors deliver quality jobs that can last as long as three to six years (along with regular maintenance, of course). In addition, professional painting contractors are licensed and insured, protecting themselves, you as the homeowner and your property. It may be initially expensive to hire an experienced professional contractor to paint your home than to do the paint job yourself, but most homeowners feel the benefits are well worth the cost.
The exterior painting do's:
Use the right paint. For a successful paint job, you have to choose the best paint for your home. If you are not sure which paints to use, it's best to consult professionals to offer the best choices for you. Latex paint is the most popular choice due to its many benefits – its resistance to UV rays, flexibility, fast drying, and ease of cleanup.
A satin or eggshell finish is considered the best choice for the home's exterior. They are easy to clean and maintain while providing a pleasant appearance that appeals to many homeowners.
Regarding paint colors, choosing the right ones depends on different factors. You might want to check out this guide that will help you choose the best color for your home's exterior.
Check the weather. This suggestion might seem like a no-brainer, but the weather can change in a snap, and often homeowners plan their paint projects far in advance of the actual painting date. Avoid painting on rainy, windy, cold, and damp, or exceedingly humid days. Check the weather forecast to make sure when is the right time to paint.
Exterior painting don'ts
Paint when it's wet. It is best not to start painting if it is raining or if the surface is still damp. Moisture makes it more difficult for the paint to adhere correctly to the surface. It also takes longer for the paint to cure and dry. Worse, it can result in specific problems – such as peeling or blistering – that will cause significant damage to the surface.
Even if it rained a day or two before, ensure that the exterior surface is completely dry before painting.
Skip cleaning and prepping the surface. Cleaning the surface, fixing any damage, and priming (when necessary) are keys to a durable and long-lasting paint job. When you skip this step (and unfortunately, many DIY home painters do), don't expect the topcoat to adhere to the surface. One of the reasons why homeowners hire professionals is to avoid all the work, especially the (usually tedious) prep work such as cleaning the surface, scraping off, sanding old peeling, cracking or blistered paint, and priming the surface.
Using a professional contractor will ensure that all the prep work is done properly and diligently. They prepare not only the surface to be painted but also the entire worksite. They cover the decks, flowerbeds, bushes, and paved areas with drop cloths and move outdoor chairs and tables away from the site to avoid dripping or splattered paint.
Cut corners. Always choose high-quality paints and never cheaper but inferior paints. Premium paints, while expensive, last longer than the more affordable economy variety and will ensure a smoother and professional-looking finish. The right paints also require the right tools. When you hire a professional team, you can expect them to have the best quality paints and tools for the job.
Don't try to cut corners by leaving out specific areas. You should be fully committed to the project to do the job completely. Once the job is done entirely and diligently, the results will be well worth the cost and effort. The best professional painters are conscientious, detail-oriented, and committed to their job; they ensure that they include all painted surfaces.
A properly painted exterior will bring aesthetic and functional benefits to your home. It is also a relatively cost-effective way of updating and elevating the look and vibe of your home. While you can DIY the job, it's best to hire professional exterior painters near me to enjoy the benefits – among them, a smooth and professional-looking finish that will last for several years with minimum maintenance.