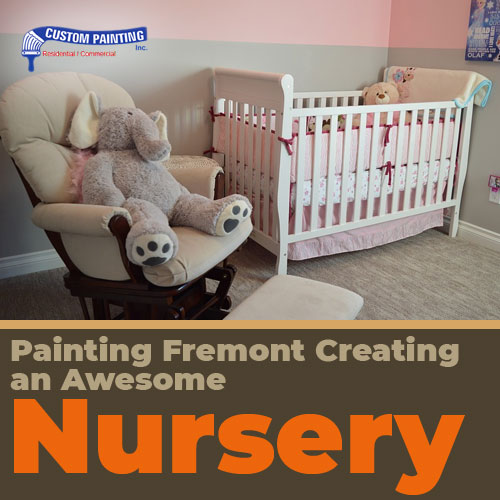 Preparing a nursery for the new addition to the family can be a fun and rewarding experience. However, it can also be a little daunting. Need some professional help? Look no farther than painting in Fremont companies! With years of experience, the pros can turn a drab-looking nursery into a beautiful, enticing, and relaxing space to welcome your little bundle of joy.
Choosing the right paint color alone for your baby's room can already be an intimidating experience. But there are a few more other things to consider. There's also the health of your baby, which is, of course, a big concern. Professional painters make sure that:
The paints to be applied to your baby's room are safe. Professionals choose the right "non-VOC" (volatile organic compounds) paints to protect you and your baby from the noxious odors and harmful chemicals in the air.
Deciding on a color palette will be much easier with the help from the experts! Many professional paint contractors also offer color designing or consultation with their clients, and such services are usually complementary.
You can trust them to determine the best and an ideal application for the type of paint and design for your baby's room.
You may entrust everything else to the professionals to paint your baby's room. But since this is also a personal project, it's but natural that you should also have a say regarding the color, design, and theme to be applied to the nursery. Here are the following tips for designing a fantastic nursery:
Choose your mood – What kind of atmosphere do you want for your baby's room? Therefore, if you choose a fun and playful look, fun and vivid colors would be a great choice. But if you want a tranquil space that encourages good sleep for your baby, then create a cozy spot by painting the walls with muted colors or washed pastels.
Be gender-specific or go neutral? – As you are planning your nursery, you may want to decide if you are going for a gender-specific look or going for a neutral color scheme and design. If you plan to expand your family, you may want to choose neutral colors, then add some temporary gender-specific accents (such as pink pillows, mattresses, and dresser for a baby girl, for instance). If you are going to use particular neutrals such as whites and lighter grays, mix in some brighter colors – they will enliven the space and promote positive emotions and openness.
Create a theme – Creating a theme for your baby's room should be relatively easy. Take some time looking through several sources of nursery design inspiration – stores, magazines, the Internet – for something that catches your eye. A whimsical pair of booties may inspire you to use daisies or rubber ducks in your baby's room. You may also want to use your pleasant experiences in the past as nursery design inspirations. For instance, your recent European cruise may serve as an inspiration for a nautical-themed nursery. Or your recent African safari could open the door to an exotic jungle theme, with stuffed wild animals and a starry ceiling.
You want nothing less than the best for your little bundle of joy, so you know that planning a nursery takes careful planning. Let painting in Fremont companies help you achieve a beautiful, cozy, and safe place for you and your special new arrival.