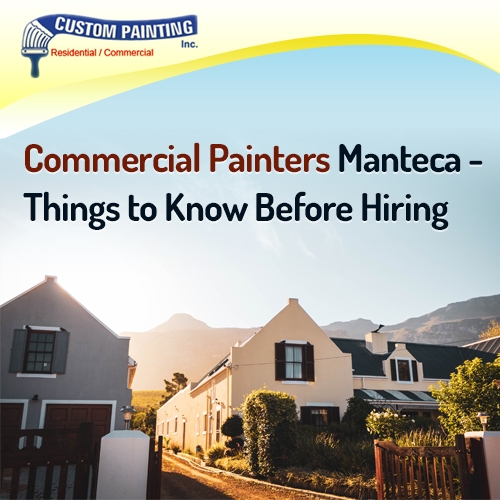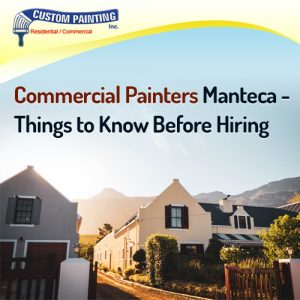 There will come a time when your business needs a new coat of paint. No matter how big or small your business is, it requires (and deserves) an updated look and improved appearance. A newly painted office space or commercial facility is always a welcome sight to the staff and the customers. When considering which commercial painters in Manteca to hire, there are many things to consider.
Suppose you own a small cafe or bookshop, and you have an artistic knack and past DIY painting experience, probably you can paint your own space by yourself. But when talking about re-painting larger cafes, restaurants, shopping arcades and office spaces, there is no question that professional help is required to get the job done.
Unless you know someone well who you can immediately trust to paint your business, looking for a commercial painting contractor may take you some time, research, investigation, a lot of asking around, and patience. But when you finally hire the right commercial painter, it will be worth the effort and trouble.
It is important to know the following things before you proceed to your task of hiring a commercial painter:
1. "Does the painting contractor have insurance?"
Remember that the contractor is going to do work at your business for a time. While you may have business insurance to cover any accidents that can happen to your business, it is the painting contractor's responsibility to have insurance as well.
When the contractor has adequate insurance, it will protect you if anything happens to your property, or if an accident befalls any of the painters working at the site. With the contractor's insurance, you won't be liable to cover the damage on your property done by the workers or cover the hospital expenses for a worker who gets injured while painting your property.
So do not hire a contractor if he doesn't have comprehensive insurance, such as liability insurance and workers' compensation insurance. Do not rely solely on your business insurance. Make sure that you ask every candidate for proof of insurances before agreeing to hire them.
2. "Are the painters licensed?"
In some states like California, a license is required for anyone working in the service industry, such as commercial painting services. So, make sure your contractor has the proper licensing. You can search for this on the Internet – their websites are a good start to know whether the contractor is licensed. While you're at it, check the Better Business Bureau to find out if the contractor has any unsettled complaints.
3. "Does the painting contractor provide references?"
Talking to a contractor's previous clients is always a good idea. You deserve to know how well (or how poorly) the contractor fared in their past projects. So do not forget to ask contractors whether they provide references to their past work. If they refuse to give them you, then it is a red flag. You would rather be looking somewhere else.
A reputable painting contractor is proud of their work, so they will be glad to provide you with references. It is not unusual for some good contractors to give you a list of their references already even before you ask.
4. "What to expect in an estimate?"
No painting job is the same – it comes in many shapes and sizes. Depending on the size of your business, you may get an estimate that is a little higher or a little lower than average. But there is no doubt that an estimate should be correct and accurate.
You can expect fair, correct and honest pricing on the cost of the paints, labor, materials and the time frame after the contractors have done a thorough inspection of your property. It is recommended that you should have at least three estimates from different contractors for comparison. All estimates should have pretty much the same rates. But if you notice an estimate which is significantly higher or lower than average, you may want to ask the contractor about this change.
5. "Are your employees safe to be around?"
You deserve to know what you're getting into since this is your business and you want it to look good. It is not every day that you see workers going in and out of your property while the painting job is taking place. It is only natural to feel some trepidation and concern about other people working at your property. That is why it is good to ask the contractor if he conducts criminal background checks on his workers.
Does the contractor also employ his workers, or do they use subcontractors? You'd better be off with contractors who employ their own workers. Steer clear of contractors who use subcontractors, as they cannot vouch for their quality of work, training or safety.
Also, you will want to ask the contractors if they provide regular safety training of all their employees and keep them updated about the best and the latest painting products and techniques.
6) "What do I need to do to prepare before the painting job starts?"
Although some professionals can do other things such as moving furniture out before painting, it might be better if you do them yourself. Remember, you're paying them mainly to do the painting job, not to move stuff around.
If your budget is particularly tight, you can save money by preparing the worksite before the professional painters arrive. You can move out the furniture or cover them, remove switch plates and outlet covers, clean the walls, and do repairs on them if you find any noticeable flaws.
Conclusion:
When you find the best commercial painters in Manteca, they will become a part of your business' future success. The key is to make sure you do your homework diligently while scouting for and researching different painters in your area.