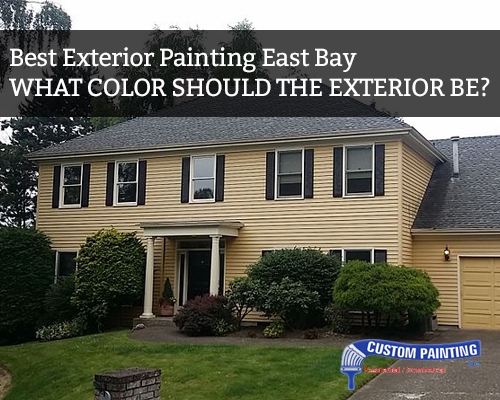 Whether you own a home or run a business, it's important that the outside of a building should look good, not just the inside. Whether you want a clean, tidy or stately appearance or want something that looks more eye-catching, the best exterior painting in East Bay will do the job for it.
Some people say that painting the exteriors is even more difficult and more challenging than painting the interiors, because of the variety of factors that come into play. Unlike interior colors, exterior colors can affect the entire neighborhood or the entire business community. Exterior colors can leave a big impression on many people – your neighbors, friends, clients or employees – who happen to see them. And this puts a lot of pressure on many homeowners and business owners when it comes to choosing the right color scheme for the exteriors.
But it doesn't have to be really that hard. Here, you can find a few but good ideas for picking the right color palette for the exteriors of your home or your business.
A few tips on choosing colors when painting a home's exterior surfaces:
1. Consider your neighbors
Choose a color scheme that will make your house recognizable, but at the same time, it should not clash with your neighbors' homes. Else, they would be upset if you choose neon pink as your field color. Perhaps you may even have your choice of color approved by your homeowner's association first before you start using it outside your house.
2. Consider your home's architecture
You can tell the architectural era and style of your home by recognizing its materials, details, colors, and textures. Historical architectural styles look best when they're painted in their original color scheme. For example, if your home is Tuscan or Mediterranean, choose weathered whites, Santorini-inspired blues, burnt oranges and shades of terra cotta. If your home is Colonial, think of conservative and earthy tones on the walls – sienna, buttercup yellow, ochres, shades of gray – with white on the trims and columns, or vice versa. Using your home's color scheme based on its architectural style is another way of honoring your home's history.
3. Consider your home's surroundings
The natural surroundings of your home can also influence your choice of colors. If you live near the beach, choose a color scheme that is inspired by it – the color of the sand, the deep blue waters, the bright yellow sun, and the azure skies.
A few tips on choosing colors when painting a commercial establishment's exterior surfaces:
4.  Put your customers or investors first
Your clients are considered the "lifeblood" of your business. So, if you're looking for colors for the exteriors, think of your clients first. Opt for the colors that will draw them in instead of turning them off. Use colors that will make your clients feel familiar and comfortable. Most people prefer classic color schemes such as whites, pale cream colors and earthy tones. It takes some experimenting with various shades before you are able to arrive at the ideal color combination that will surely appeal your clients. You can use color visualizer apps, or you can also seek for professional advice regarding the right color schemes for your business exteriors.
5. Consider the type of your business
The type of your business can also influence your decision when choosing exterior colors. If you own a fast-food restaurant, use an abundance of red, yellow and white. If you own a clothing business, use white and shades of blue, green and purple to give an impression of a relaxing and comfortable place to shop.
6. Look for elements that won't be painted
This applies to both house painting and commercial painting. For instance, check the color of the things that you cannot change such as the roof, natural wooden doors, and stonework. For instance, if your roof is terra cotta, think of the warm and earthy shades that will blend well with it such as reds, browns, and yellows.
Painting certainly costs you some (or a lot, depending on the scope of the project), so you can't afford to make a mistake especially when you try to do the best exterior painting in East Bay. The best and the soundest way to do it is to hire professional painters. But choose only experienced, licensed and reputable painting contractors who will make your home or business look beautiful and impressive on the outside (as it does on the inside).