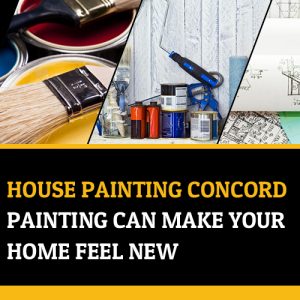 You may be like many home owners who decide that a fresh change from their usual routine is needed. This includes the look of their homes. It doesn't necessarily mean you want to move to a new house, but rather you would like a new look for your home. House painting in Concord can do wonders to break from the old, humdrum colors you've gotten used to. Besides, it's definitely a cheaper and less painful option than buying a new house!
That's what new colors on your walls are worth when you choose Custom Painting, Inc. for house painting in Concord! We apply quality paints to make your home seems brand new, whether it's a fresh coat of paint, or an entirely different color on your walls. It's all up to you in choosing the colors of your own home. It can set a whole new tone in your house and release a more harmonious energy than the usual, blah color you've gotten used to seeing. Custom Painting, Inc. ensures that you'll get exactly the paint color you want as well as the mood that you desire to create!
With Custom Painting, Inc., interior painting is just a breeze. You may save some money by doing the painting yourself; however, you may encounter some trouble especially if you don't know the proper painting techniques. Leave it to the Custom Painting, Inc. professionals to do the job for you. You may pay a little more for professional painting service as compared to do-it-yourself, but you'll enjoy the benefits of a painting job well done and it will take less time than if you did the painting yourself.
There's no need to move out while we do our job. Custom Painting, Inc. ensures your furniture, carpets, and floors remain dip-free by covering them. We even make sure that your furniture goes right back where it belongs after the job has been done. We guarantee that your furniture or floors won't be left with paint marks, smudges, scratches, or nicks.
Custom Painting, Inc. is serious about your satisfaction and we stand behind the quality of paint we use. The excellent paints from Kelly Moore Paints are our choice because they are mostly water based so they will dry within hours. This is often the option you need when you want home improvement projects successfully wrapped up in a relatively quick timeframe. Custom Painting, Inc. helps you decide which areas to be painted first, and we will guide you on what types of paint, type of paint finishes, as well as colors that can be used. When it comes to coating a water-based paint over an oil-based paint, it's better if you leave this to professionals as we understand how to accomplish this without having sheets of paint peeling from your walls. Along with painting, we also do repairs on holes and dings in the walls, matching texture, and fixing cracks so they won't happen again.
Custom Painting, Inc. is a fully licensed, bonded, and insured painting company so you don't have to worry about safety and security. When you choose us, you will have well-executed painting and repair work done in your home because we know how special every home is to those who live there. Contact Custom Painting, Inc. whenever you want professional house painting in Concord. We will make your special home look and feel like new.